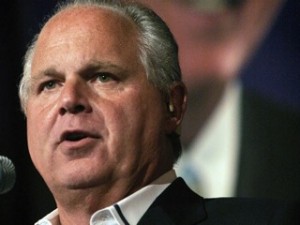 The effort to boycott advertisers on the Rush Limbaugh radio program appears to be drawing to a close, according to the Washington Post. Limbaugh had sparked the ire of a number of progressive groups for his multi-day attacks on Sandra Fluke for advocating Congress mandate copay-less insurance coverage of birth control and contraceptives. On Wednesday, WaPo's Paul Farhi declared the boycott on Limbaugh's advertisers was largely a failure.
RELATED: Showdown Author David Corn To Rush Limbaugh: 'Call Me Slut!'
"The dark clouds hanging over Rush Limbaugh appear to be lifting," writes Farhi. "On Monday, the 600 or so radio stations that air Limbaugh's program were told by his syndicator, Premiere Radio Networks, to resume running "barter" ads during his program." Clear Channel, Premier's parent network, had previously suspended barter ads while Limbaugh was in the news.
The boycott was initially successful, forcing fewer than five of Limbaugh's national advertisers to cease funding the program. However, boycott organizers who claimed that over 100 advertisers dropped Limbaugh's program were stretching the truth as "some of these companies weren't regular Limbaugh sponsors in the first place." Most of the advertisers who opted to drop their ads from Limbaugh's program were only airing those spots in regional markets.
At the height of the controversy, Limbaugh lost two small syndicated stations in Western Massachusetts and Hawaii. All of the major markets that carry Limbaugh's program opted to weather the storm – now it seems the clouds are clearing.
The organizers of the boycott effort are not done yet. The liberal group MoveOn.org has organized a petition with SignOn.org which asks for signatures to force Limbaugh's program off his 180 stations. But with interest in the month-old scandal waning, the likelihood of further success in the "Stop Rush" is in doubt.
h/t Washington Post, via Hot Air
Have a tip we should know? tips@mediaite.com