Washington Times Editor Posts Traffic Cam Video Of Aurora Shooter James Holmes On His Traffic Blog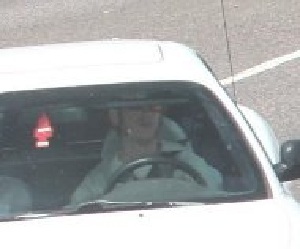 Richard Diamond, Senior Opinion Editor for the conservative Washington Times, also runs a blog called The Newspaper.com, which obsessively covers the injustices of traffic cameras. On Monday morning, Diamond found an unusual way to draw attention to his cause, posting traffic cam video of Aurora mass shooter James Holmes running a red light ten days before the shooting, and pointing out that the traffic light Holmes ran only had a 2.9 second yellow light, one-tenth of a second less than the time recommended by Federal Highway Administration.
There doesn't appear to be a trace of irony in Diamond's defense of Holes against an unjust traffic camera. From TheNewspaper.com:
James Holmes, the man standing trial for a July 20 killing spree, had been flashed by a red light camera headed in the direction of the Aurora, Colorado movie theater just ten days before the attack. Holmes was taken into custody after twelve movie-goers were murdered and fifty-eight injured at the midnight premiere of The Dark Knight Rises. Police responding to the murder scene impounded Holmes' white 2000 Hyundai Tiburon which was found in the Century 16 theater parking lot.

The same car was photographed at noon on July 10 turning left from East Mississippi Avenue onto South Abilene Street, headed north about a mile and a half from the theater. Holmes was in custody before the ticket was mailed, and it is not known whether he ever saw the tell-tale flash in his rear-view mirror.

As can be seen from the video of the violation taken by Xerox (formerly Affiliated Computer Services), Holmes was just a few feet from the crosswalk when the light changed from yellow to red and the camera flashed. The yellow warning signal lasted just 2.9 seconds — below the federal minimum requirement established by the Federal Highway Administration (FHWA) in the Manual on Uniform Traffic Control Devices (MUTCD).
He then goes on to quote chapter and verse from the Federal Highway Administration's Manual on Uniform Traffic Control Devices, which states that:
A yellow change interval should have a minimum duration of 3 seconds and a maximum duration of 6 seconds. The longer intervals should be reserved for use on approaches with higher speeds.
Well, I'm glad we got that cleared up. Next up: Hitler was a serial tailgater, and Jeffrey Dahmer used to ride the left lane for miles with his blinker on.
The video that Diamond posted, which shows Holmes' car from behind and to the right, does, however, evoke a uniquely modern pang with its glimpse at a mundane, pre-shooting James Holmes. If only the worst thing he'd ever done was run that red light.
Here's the video, from TheNewspaper.com:
Follow Tommy Christopher (@TommyXtopher) on Twitter.
Have a tip we should know? tips@mediaite.com