WATCH: Teen Goes Viral After Coming Out Speech At Catholic High School Receives Standing Ovation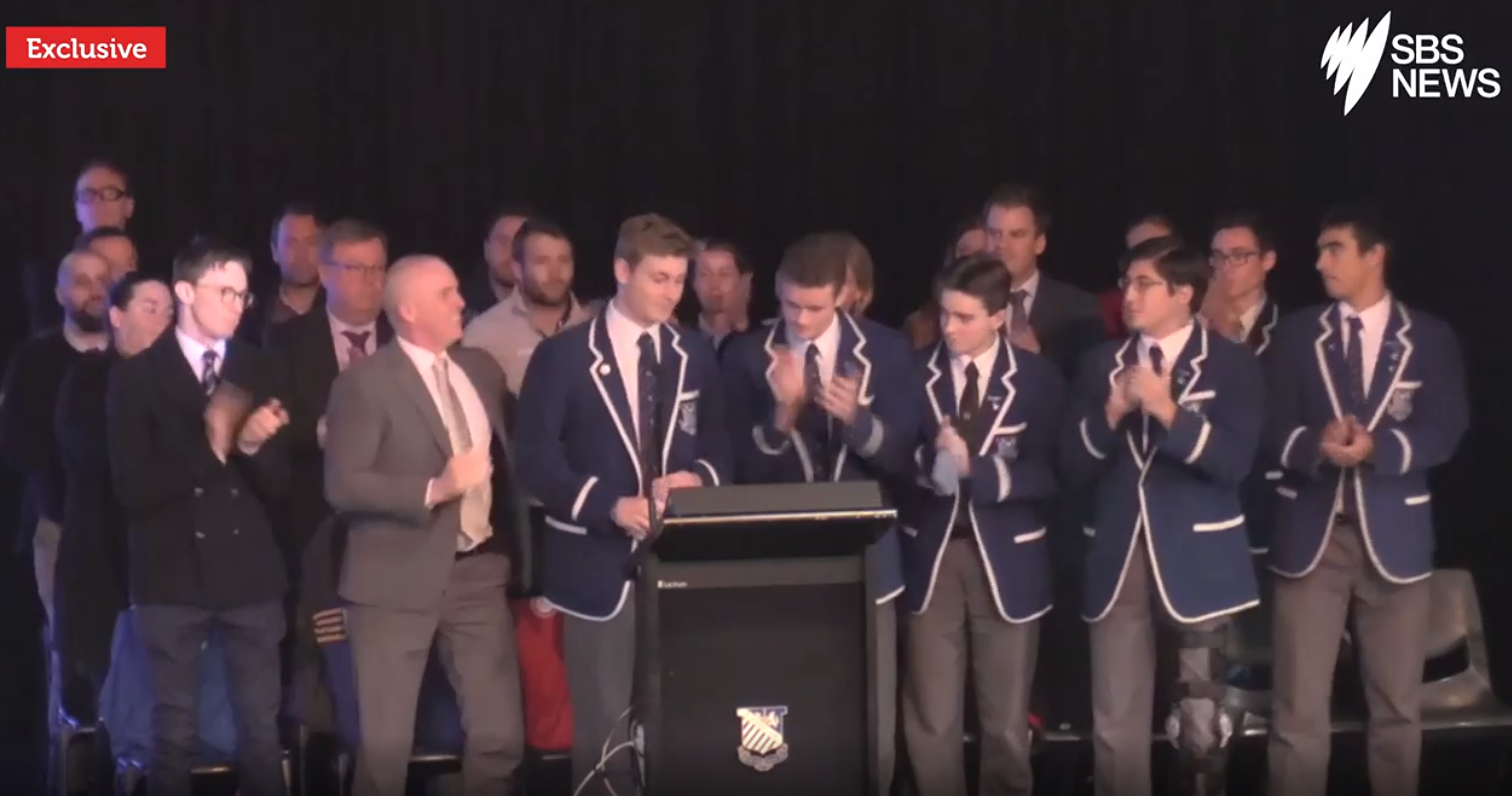 Following an emotional speech at his Catholic high school assembly, an Australian student was met with a standing ovation for his courage in coming out as gay.
Footage of Finn Stannard's address was released this week by SBS News, going viral online months after his June speech at Saint Ignatius' College, Riverview in Sydney. The message was one of bravery and self-acceptance.
"In my experience, denying who you are only limits our ability to be happy and to give happiness," he told the crowd. "A life living behind a mask is not one any person should have to live."
"Surround yourself with the people who let you live as your true self and never be afraid of asking for help. Find your own identity and be comfortable with who you are. Being different, whether it's being gay or being part of another minority group, can be challenging but it does not have to be scary and isolating."
Stannard revealed that in the past, he had suffered the symptoms of anxiety and depression, sometimes prompted by feelings that he'd never find acceptance from his peers.
"Seeking support was the first and biggest step towards accepting who I was," he recalled. "Talking to someone when we need help is integral. We need to challenge the belief a lot of men have where we put off asking for help, hoping it will all just go away."
This is the moment a gay student at one of Sydney's most elite Catholic schools – that boasts former prime minister Tony Abbott and Barnaby Joyce among its alumni – stood up in a packed assembly hall of more than 1,500 students and came out pic.twitter.com/NyZxffFBmr

— SBS News (@SBSNews) November 26, 2018

Speaking to SBS News, Stannard said it was "the first time I'd really been proud of who I was." His mother Meghan expressed her pride, too.
"It was amazing," she said, adding that "the fact that Finn was supported, the fact that his message was heard" left her in tears.
At the end of his speech, Stannard told his colleagues that "every single one of you can help, in your own way, by accepting others for exactly who they are."
Have a tip we should know? tips@mediaite.com