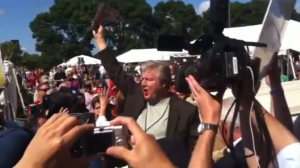 Let there be no doubt: Marcus Bachmann really wants his wife to win the presidency. So much so that he is willing to appear before a crowd and pump them up as best as he can.
Slate gives us a brief insight into how Michele Bachmann is being supported by her husband on the campaign trail.
An army of cameramen lurched with Bachmann over to a caravan of three golf carts. She and Marcus sat in the middle cart, smiling and thanking voters.

"You voted?" asked Marcus, pointing to a voter. An ink-stained thumb point back at him. "Good! You voted? Good! Thanks!"

The Bachmanns rode the short distance to the polls, mobbed by cameras and trailed by people wearing orange Bachmann Volunteer shirts. When they stopped, though, they didn't seem to be marshalling votes. As Michele gave signatures and posed for photos, Marcus waved a pack of tickets and asked passersby to vote for his wife.
In the video below, you can hear Bachmann shouting "Vote Michele Bachmann!" as he is greeted by lots of cheers and a few assorted boos (from, one presumes, Ron Paul supporters [and, in fact, you can hear shouts of "Ron Paul" from people in the immediate area]). He appears to be shouting "Vote Michele Bachmann" several dozen times in the video, but avoids making it too repetitive by throwing in a "We need to take our country back!"
And remember: "it's Michele with one L, not two!"
Watch the video below, courtesy of David Weigel via YouTube:
h/t Slate
Have a tip we should know? [email protected]
Josh Feldman - Senior Editor