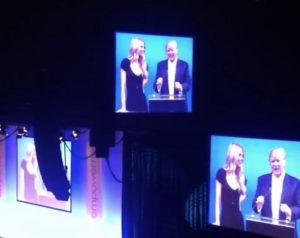 We found this video thanks to the Huffington Post and it is really shocking. What with the news about Hillary Clinton's emails and Anthony Weiner's resurgence in the election narrative, it isn't surprising this video got sort of buried, but it's definitely worth seeing.
So, remember Donald Trump repeatedly humiliating former Miss Universe Alicia Machado for her weight — both in the 1990s and today? Well, here's a video of him going after a different Miss Universe as a way to teach an audience to "Get even with people. If they screw you, screw them back 10 times as hard."
The speech took place in Sydney in 2011 and featured Trump calling Jennifer Hawkins, the 2004 winner of his pageant, to the stage so he could publicly berate her for almost not introducing him that night. He even made a sexual joke at her expense and revealed the nasty things he was going to say had she actually not introduced him.
After explaining that a person should screw anyone who screws them, he said, "I'll give you an example: Jennifer Hawkins. Where's Jennifer? Where's she sitting? Get over here, Jennifer. First of all, how beautiful is Jennifer? This is about getting even. I was so angry at her yesterday. Seriously, as I said, I thought that she dissed me. I thought that my Jennifer ― I'm going around saying she's my favorite Miss Universe, but I think I like the new one better, Jennifer. So I go around saying she's the greatest … then when I came here, there was no Jennifer Hawkins to introduce me."
She tried to explain that it hadn't gone down quite like that and Trump seemed conflicted over whether or not to give her the mic. Ultimately, he chose to move forward with his insults. He said this:
I was actually going to get up and tell you that Jennifer is a beautiful girl on the outside, but she's not very bright. That wouldn't have been true, but I would have said it anyway. Because you know what? It would be great.
It is reminiscent of the time he said he would never call Megyn Kelly a bimbo…by retweeting someone who called her a bimbo.
Finally, he made a sexual joke at the young woman's expense. He said, "And you know what? She came tonight, she came ― came, she came, she came…" After he got some laughs and cheers, he finished that up with, "See, so they have the same filthy minds in Australia."
She responded, "And you," then asked to sit down again moments later.
Finished with his demonstration on "getting even," he said, "Yes. Go."
What he did to Hawkins is not necessarily out of character. His humiliation of Machado was only the beginning when it came to the reports of his behavior with pageant contestants and winners. A former Miss Finland and Miss Utah have accused him of sexual assault. Girls who competed in the Miss Teen USA pageant when they were underage have recalled him coming into dressing rooms as they were naked. A former Miss Australia remembered him bullying the women in her Miss Universe class about their weight.
His misogyny is often complimented by that determination for revenge he mentioned. When a super PAC used his wife's old nude modeling photos in an ad encouraging primary voters not to support him, he retweeted an unflattering photograph of his main competitor Ted Cruz's wife to get even.
[image: screengrab]
[h/t for video Share Blue]
Have a tip we should know? tips@mediaite.com