'We Didn't Elect Him': Joe Scarborough, Mika Brzezinski Push Back Against Critics on Trump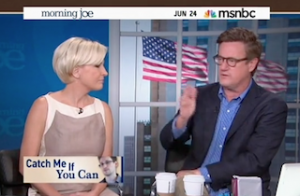 The relationship between Morning Joe and President-elect Donald Trump has been a fascinating one for media observers, and in a new interview Joe Scarborough and Mika Brzezinski continue to insist they have not been "boosters" of Trump.
In an interview with Vanity Fair, both of them say this was a "false narrative" created by outlets like CNN.
Scarborough said, "What's so ironic is that CNN's doing reports on fake news, and they have someone who writes one false news story after the next. We didn't sit with him to watch the returns. Even after the facts came out that we did not, they continued to churn out those lies."
(The CNN report in question did not say they watched the returns with Trump.)
Brzezinski also explained her recent Trump Tower meeting with Ivanka Trump:
We had been meaning to get together. The campaign itself was rough. I said some really critical things about the candidate along the way. We had a text exchange that was two friends having it out. I was really upset and so was she. We really thought we should get together and talk. She is really interested in doing something really powerful and meaningful with women. I was telling her how important I think it is for this administration to have a strong voice, and even an apparatus, and I'm looking forward to what she's going to do. I'm really happy for her. And I'm glad we were able to have that talk because we were friends before.
Scarborough and Brzezinski both insist that they've been very tough on Trump, and their relationship with Trump has gone from cordial to, well, all-out Twitter war. And despite his past defenses of Trump, Scarborough did go in hard against him at times.
But they also say this:
Brzezinski: I challenge you to find anybody who has said or written comments that are more tough and more serious and more critical when necessary of Donald Trump. I'd ask them to send you their toughest stuff.

Scarborough: You can't find anyone on CNN, you can't find someone on MSNBC, who has been tougher.
RELATED: Scarborough & Hannity Can Run From their Trump Boosterism, But They Shouldn't be Allowed to Hide
They also say the idea them giving a platform to Trump early on in the race and defending him where others wouldn't didn't really help him win. Why?
Scarborough says, "Let me just tell you, if Trump voters watched our show, we'd be making $100 million because we'd be the biggest morning show. Let's just be real. We didn't elect him."
He also fired back at CNN rival Chris Cuomo for calling them Trump spokespeople. Scarborough said, "Unfortunately, he's obviously unhinged by something."
You can read the full interview here.
[image via screengrab]
— —
Follow Josh Feldman on Twitter: @feldmaniac
Have a tip we should know? tips@mediaite.com
Josh Feldman - Senior Editor