We Visited CNN's #MyVote Camper Before It Hits the Road to Talk to Voters in Middle America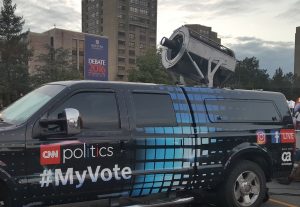 If you live in or near Scranton, PA; Charleston, WV; Farmville, VA; Durham, NC; Harveysburg, OH; St. Louis, MO; Dyersville, IA; Omaha, NE; Boulder, CO; Arches National Park, UT; or Las Vegas, NV, listen up! Even if you don't live in those places, listen up! CNN has partnered with Instagram, Facebook, and CA Technologies to create the #MyVote program and with a special camper in tow, they're hitting the road to talk to voters in middle America. The listed cities are the ones they're guaranteed to hit, but who knows what the next few weeks will bring?
Hosts Chris Moody and Vanessa Yurkevich are taking a unique approach to this trip, which will feature stops at every debate site. To be specific, Moody told us that he and Yurkevich plan to "shut up and listen." He was careful to point out that he didn't mean they are just going to listen and respond, either. They are going to listen to learn from a group of citizens who are often underserved by the media. There is no predetermined narrative or editorial endgame.
"The whole goal is to get out of the campaign bubble," he explained during the camper's latest stop. The vehicle — which is decorated so well with pictures of Hillary Clinton and Donald Trump that staffers from competing networks were selfie-ing with it — was parked outside of Hofstra University during last night's presidential debate and as he showed off its features, he was happy to talk about the #MyVote cause.
What are those features? Well, you already know that the program is a partnership between Instagram, Facebook, CA Technologies, and CNN, so maybe you can guess.
---
20160926_183037
20160926_183849
20160926_190617
screen-shot-2016-09-27-at-6-40-28-pm
20160926_183641
20160926_183602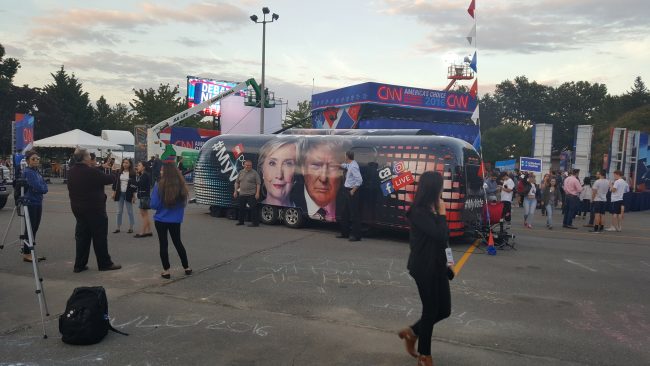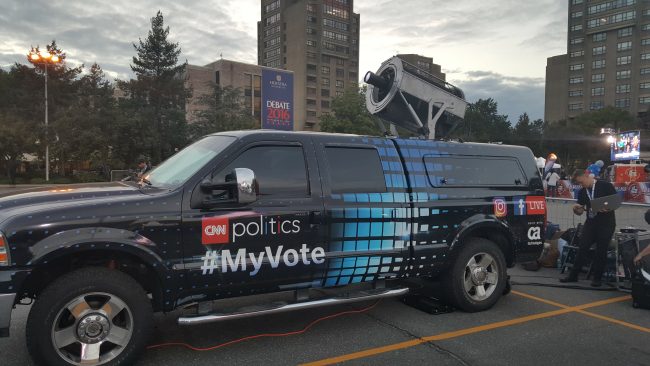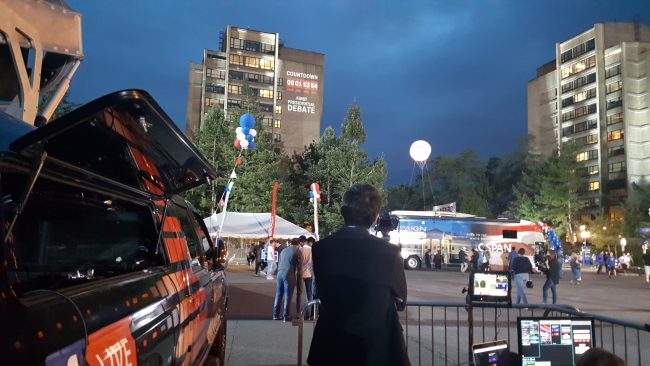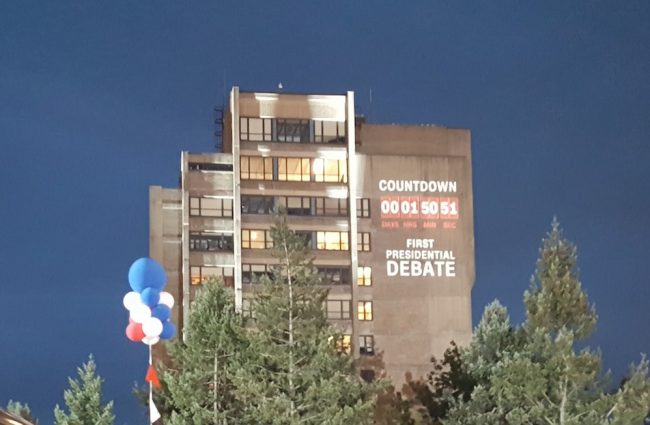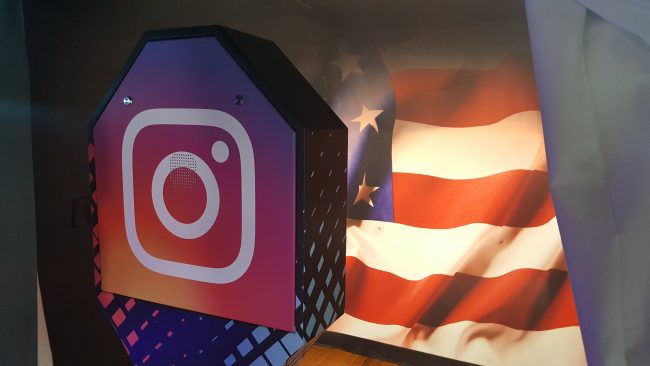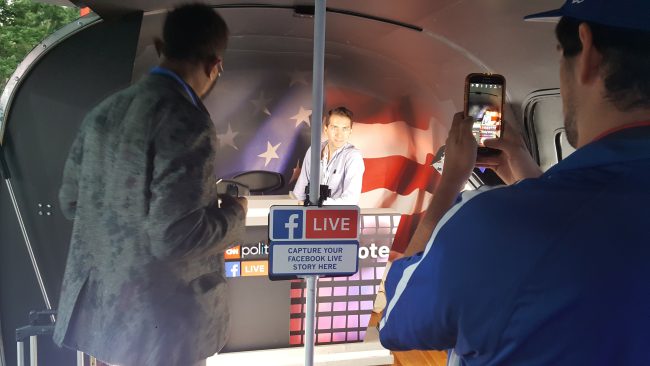 The #MyVote camper, which often attracts people looking to take a photo with a nice backdrop.
The projector in action in Hempstead, NY.
A building in Hempstead, NY is projected upon by the #MyVote team in partnership with CA Technologies.
A closer view of the projection.
The #MyVote Instagram selfie booth, which allows users to select a red, blue, or purple background to signal their political affiliation.
A visitor poses on the Facebook Live set within the #MyVote camper.
---
Upon arriving to the camper, a person can sit at an anchor's desk and rig their phone up to a holder that will enable them to do a Facebook Live stream during which they can let their friends and family members know exactly how they feel about the election. After that, they can head into a photo booth that comes complete with a wide screen, a countdown timer, and a circle light so they can see themselves and get the perfect photo against a red, blue, or purple backdrop. The screen will prompt them for an email address and they'll soon receive their picture, which they'll be encouraged to share on Instagram using the hashtag #MyVote.
Wondering where else the photos go? They will be uploaded to Facebook by CNN and will also be used to create collages of the candidates' faces, among other things. That's not the only artistic endeavor the #MyVote team has taken on, either. A large projector (produced by Obscura Digital and built with CA Technologies) is traveling with them so they can project poll results, election countdowns, photos, and more onto buildings and landmarks along the way. They call it "an immersive, one-of-a-kind virtual projection experience," but after seeing it in person, we are just calling it "cool."
Neither Moody nor Yurkevich seems to know what sort of stories they will find as they talk to locals, but that seems to be the point. "Don't the best stories always seem to be the ones you don't look for?" Yurkevich wondered aloud as the #MyVote production team set up the projector to count down the minutes until the debate.
Follow along via CNN Digital, CNNGo, Facebook, Snapchat, the hosts' Twitter accounts, and, of course, the #MyVote hashtag. You don't have to be at the camper to contribute, either. If you have something to say, upload it using the hashtag! Moody and Yurkevich are ready to listen.
[images via Lindsey Ellefson]
This is an opinion piece. The views expressed in this article are those of just the author.