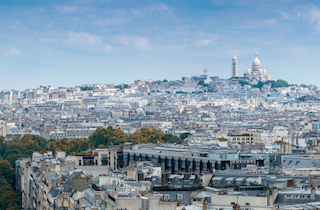 Fox News is being increasingly mocked for its several declarations that various European cities, including Paris, have Muslim-only "no-go zones." (There's no such thing.)
On Thursday, the French television show Le Petit Journal goofed on Fox by sending correspondents to the supposedly impenetrable neighborhoods only to find them slightly less prohibitive than advertised.
The website Paris by Mouth is similarly amused at the claim. "How wonderful for Baghdad if their streets are also filled, as these districts are, with modern bistros, craft breweries, natural wine haunts, vegan cafés, and spots for Philly cheesesteak," the site wrote this week. "Not to mention a place that ranks among the World's 50 Best Restaurants and a bakery that won the Best Baguette in Paris competition."
The site went on to publish a guide to eating and drinking in the Muslim no-go zones, including some joints that were "nearby but not technically under Sharia law."
The "no-go zones" were coined in 2006 (and later retracted by their namer after he visited them) and are based off a 1996 map of low-income, high-crime areas. As Bloomberg Businessweek pointed out, "far from being considered 'off limits' to authorities, they've been designated as priority areas for urban renewal and other forms of state aid." (Fox has since issued one its characteristically weak apologies.)
So if you're planning a Parisian vaca anytime soon, print and take their map. You can tell your right wing friends you braved Jihad City, while boasting to your left-wing friends of the Japanese fusion you tried.
[h/t Paris by Mouth]
[Image via Shutterstock]
——
>> Follow Evan McMurry (@evanmcmurry) on Twitter
Have a tip we should know? tips@mediaite.com