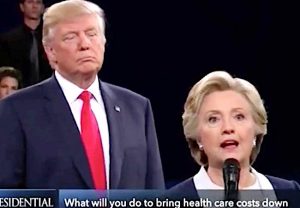 We need to ask: What do you think about this?
A new opinion piece was published on CNN by Mediaite alum, Rachel Sklar. The piece asserts that President-elect Donald Trump is super jealous of Hillary Clinton for, well, not being President-elect. The idea is that he never wanted to win.
Here's how she put it:
She may not have cracked that highest, hardest glass ceiling, but she did crack his dream outcome: not being president. Even more, she managed not to be president while winning not just the popular vote but winning it by a huge margin.

That's the kind of loser Trump would name a "winner" — if it had been him. And oh, how he seems to wish it had been. What else can you call someone with 306 Electoral College votes to date who still tweets baseless claims about "millions of people who voted illegally" costing him the popular vote? Sore winner much?
She went on to point out that he doesn't seem to enjoy doing any of the things that go along with being President, from filling the cabinet to moving into the White House to taking intelligence briefings. Sklar reminded readers of this:
During the campaign I asked two ppl close to Trump if he wanted to be potus or just wanted to win. Both replied it was a good question.

— Maggie Haberman (@maggieNYT) November 28, 2016
She summed up the argument with the statement that by continuing to send out feisty-yet-not-so-presidential tweets, Trump is carrying on in the same way he would have had he actually lost to the "rigged system" he railed against in preparation for his defeat. He could be lounging, tweeting, enjoying the adoration of his fans, and letting Clinton do all of the work he hasn't seemed to show an interest in.
So, what do you think? Does Trump still really not want to be POTUS?
Read it all here, then get back to us.
[image: screengrab]
Have a tip we should know? tips@mediaite.com