What Do You Make of This Theory That Trump Resurfaced His Wife's Naked Pictures?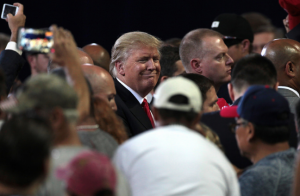 Over the past few days, you've definitely seen the naked photos of Melania Trump that the Post drudged up. After all, they've published them two days in a row. The Post is acting like the former model's nudes are a shocking revelation, but it's nothing that different from what we saw earlier in the primary season.
What is different is how the Donald Trump campaign has responded to this leak, if it is even a leak at all. When a pro-Ted Cruz super-PAC released old photos of the Slovenian jewelry designer, the business mogul tried to defend his wife… by retweeting a terrible picture of Cruz's. This time around, though, the campaign has been flippant, calling the photos "nothing to be ashamed of" and a "celebration of the human body as art."
Naturally, some people are wondering why Trump and his staff would get so worked up about a nude modeling photo resurfacing that they'd lash out at Heidi Cruz and then, a few months later, faced with the same situation, insist that old naked pics are really no big deal at all. Gawker, for one, suggested that maybe — just maybe — Trump nudged the photographer who took the pictures into offering them up to the Post. After all, the Rupert Murdoch-owned paper did endorse Trump in April and would be likely to handle the pictures in a way that at least partially reflected that endorsement. The photographer even got his own little profile in the paper, making it a win-win.
The win for the Trump camp, if you were wondering, would be the distraction the photos would cause in the wake of, you know, the disaster that followed Trump's attacks on Gold Star parents Khizr Khan and Ghazala Khan.
What do you think? Would Trump do that? Did he do that?
[image via Gage Skidmore]
Have a tip we should know? tips@mediaite.com