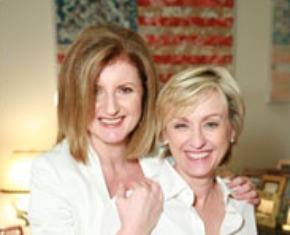 With so much attention being given to the recent deal between Huffington Post founder Arianna Huffington and Aol, it's worth it to see what sort of impact on and similarities this has with other media companies – namely, the merger between Newsweek and Tina Brown's Daily Beast.
Like the Huffington Post, the Daily Beast is an online entity covering news, entertainment and opinion with a recognizable woman at its helm. And, not unlike Aol, Newsweek is a brand seeking to reinvent itself and breathe new life into what is generally viewed as an outdated offering.
Already, news of the partnership between the Huffington and Aol has resulted in a jump among newspaper stocks because, as Yahoo Finance / the AP sees it, HuffPo's sale is just "the latest in a string of deals that show investors are interested in companies that cover the news and websites that carry news" …even as Aol's own stock suffered a drop the day the deal was revealed.
Mediaweek provided an insightful look at some of the challenges facing "NewsBeast," highlighting two major obstacles: For one, it needs to build an audience (something SEO-friendly content machine HuffPo has in the bag – it boasts around 24 million readers compared to under 3 million for the Daily Beast). And then there's the matter of, you know. Making money:
From the beginning, the site has tried to do business in a different way – and no wonder, since independent news Web sites have traditionally been unprofitable. But the Beast made the curious decision to divorce itself from the online ad system. It offers no standard ad units and sells only premium custom placements.
The Huffington Post's worth and profitability had been something of a contentious matter previously, especially given news that it had been shopping for buyers as its backers sought to bow out. Now, Aol hopes that HuffPo will turn out $10 million in profit (before interest and taxes).
So what does this mean for the future of the Daily Beast / Newsweek? Only time will tell, of course, given it's still anyone's guess whether the HuffPo's special brand of search engine optimization and content aggregation and repackaging will prove a long-term, lucrative means of presenting information to readers, or a trend among websites that has reached its zenith with this sale.
When news of the merger first emerged, Brown (despite earlier claims that long-form content "of the old kind" is a dying medium) said she believed that magazines could provide a "different kind of narrative rhythm" than the web, and that she welcomed the opportunity for her web team to write in a way that is "more reflective, reconstructive, predictive, and to provide a more in-depth, narrative account of news." (Why, yes! I did indeed just link to one of my own articles.)
Our guess? Eventually we'll witness the pendulum swing back towards longer, more in-depth content, especially given that hand-held, portable devices like smart phones and the iPad allow people to access content nearly everywhere – even as there remains a place and a necessity for quick news blurbs created and curated to attract as many pairs of eyes as possible. But as readers grow wiser, savvier and increasingly jaded with time, they will be more discerning of the news sources they visit and more aware of SEO trickery or sources that offer quantity over quality… perhaps to the extent that they will be willing to pay for better, longer, more quality content on the web and mobile devices.
Update: Found this piece by Jeff Jarvis so on-the-money that I figured I'd bring your attention to it. It's about Aol / HuffPo, but could apply to the future of NewsBeast.
Here's my favorite paragraph:
Content alone isn't enough for Aol. It has content. Lots. What HuffPo and Arianna bring is a new cultural understanding of media that is built around the value of curation, the power of peers, the link economy, passion as an asset, and celebrity as a currency. As a friend of mine reminds me via email from London, HuffPo, thanks to its roots, also has a keen understanding of the value of technology innovation to build platforms. Unlike old media companies, HuffPo groks scale.
Have a tip we should know? [email protected]