The offices of the French satirical magazine Charlie Hebdo were attacked by at least two shooters Wednesday, who were reportedly yelling "We have avenged the prophet."
Charlie Hebdo has been around off and on for decades—and banned by French authorities several times—but made itself infamous in 2006 when it published a Dutch cartoon satirizing the Islamic prophet Muhammed. The issue landed executive editor Phillipe Val in court, though he was ultimately acquitted.
The magazine is an equal-opportunity offender of religions, taking on Catholicism and Judaism, as well as France's political officials: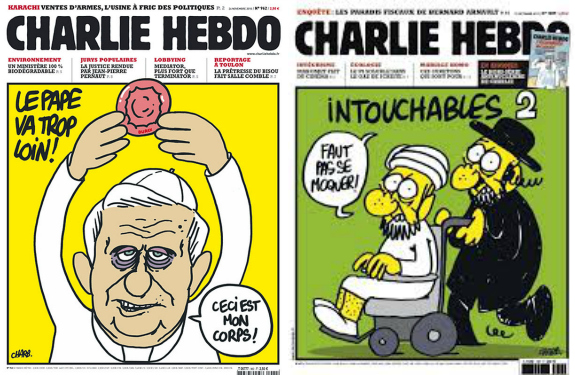 But its Muhammed issues are the ones that have incurred violence. In 2011 Charlie Hebdo ran an issue "guest-edited" by Muhammed; on the cover a caricature of the Islamic prophet warned "100 lashes if you don't die laughing":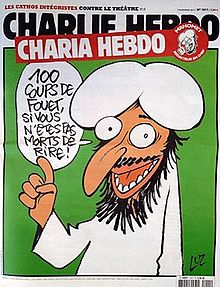 Their offices were firebombed in response. Nobody was in the offices at the time, though the magazine's computer systems may have been the target of the attack.
In 2012 the magazine ran another mockery of Muhammed that set all of France on high alert. This time Charlie Hebdo satirized the YouTube film "Innocence of Muslims," the anti-Islam video that led to riots across the Middle East (and possibly in Benghazi, Libya). The issue contained more caricatures of Muhammed, including one of him bending over: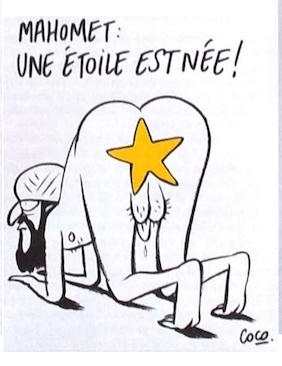 "I don't feel as though I'm killing someone with a pen," editor and cartoonist Stéphane Charbonnier said at the time. "I'm not putting lives at risk. When activists need a pretext to justify their violence, they always find it."
Unconfirmed reports say that Charbonnier and several of the cartoonists who drew the Muhammed caricatures were killed in the attacks.
[Image via screengrab]
——
>> Follow Evan McMurry (@evanmcmurry) on Twitter
Have a tip we should know? tips@mediaite.com