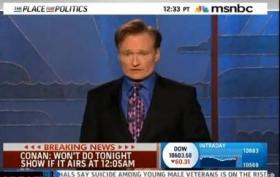 Last night's Tonight Show contained arguably the sharpest jabs by Conan O'Brien at his employer – and Jay Leno.
How long can this last? If reports are true, it may be all over by next week. But what are the implications for O'Brien and NBC?
ESPN's Bill Simmons tweeted that January 22 would be Conan's final show, and People is reporting that date now as well. But can NBC afford to have another seven shows of unbridled attacks by O'Brien?
Ever since Conan announced he would not host the Tonight Show at 12:05am, fellow late night hosts, other comedians and, in large part, the Internet, have rushed to pledge allegiance to Team Conan.
But Conan O'Brien's nightly destruction of NBC, while funny, may start to sound like whining. It's a fine line – even for hardcore fans of Coco, it may become at best awkward, and and worst, embarrassing. It's not yet – last night was hilarious. But when is the expiration date?
There are other issues as well. Business Insider's Henry Blodget says the constant shots at the mothership may come back to hurt O'Brien in the end.
We also suspect there's a clause in Conan's contract that allows NBC to fire him "for cause," which probably includes a term about intentionally damaging the network's reputation (or somesuch).

Usually getting fired for cause means that you forfeit any severance you would otherwise be entitled to. Which, in Conan's case, could amount to tens of millions of dollars.
Nikki Finke is reporting Jeff Zucker may try to keep O'Brien off the air for an extended amount of time – maybe three years or more. Either way, there will be a legal battle, and it will get ugly (or, uglier).
And Broadcasting & Cable reports there may be several hang-ups to O'Brien's rumored next, best option – FOX. The Los Angeles Times explores similar issues.
If O'Brien is done this week, maybe Friday things settle down and he takes the bittersweet route. If this drags on through next week, there will be a choice for O'Brien – go hard or kick up the feet and enjoy the end of an era (albeit a very short era). If for some reason this meanders until the Olympics in February, O'Brien will have a month to figure out how he wants his legacy at NBC to conclude.
—–
» Follow Steve Krakauer on Twitter
Have a tip we should know? tips@mediaite.com