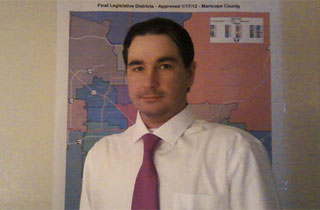 I personally wouldn't know if it's hard being a white man or not, but apparently Scott Fistler, a man who is so white that his last name is "Fistler," was so oppressed by Society that he changed his name to Cesar Chavez — yes, like the famous labor leader — in order to run for Congress in a heavily Latino district.
Fistler, a wannabe Arizona politician who's lost two races as a Tea Party write-in candidate, legally changed his name to Cesar Chavez last year. According to court documents pulled by the Arizona Capitol Times, Fistler claimed that he "experienced many hardships because of my name." (Which, to be fair, is "Fistler.") After that, though, Señor Fistler announced his intentions to 1) become a Democrat, and 2) run for the House of Representatives in Arizona's 7th Congressional District, which is 56% Hispanic.
Obviously, "Cesar Chavez" is probably the worst name to use to pander to Latino voters, given how important the actual Cesar Chavez is to the Hispanic-American community. (It's like changing your name to "Washington Jefferson Lincoln" to run for the Presidency.) But lo and behold, it gets worse, because apparently Señor Fistler thinks Latinos are too dumb to do background research:
The iconic labor leader isn't even the only Chavez whose name is being used by the local Chavez campaign. The Chavez for Congress website is covered in photos showing demonstrators rallying for Venezuelan President Hugo Chavez.

The name "Chavez" can be seen on balloons, signs and t-shirts of activists in the photos, which have mostly been lifted from Venezuelan news reports. They're followed by captions like "Supporters: 'We love you Chavez'" and "Sign: Vote for Chavez 2014."
Naturally, Phoenix's Hispanic community is both perplexed and outraged that this gringo thinks they're that gullible, while the state's Democrats are trying to kick Señor Fistler out of the race, by pointing out that he was collecting signatures to run as a Democrat while technically registered as a Republican.
But according to Señor Fistler, those are just stupid facts and important technicalities that only stand of the way of his real goal, which is making sure no one realizes that he's not actually Mexican:
Chavez did not respond to requests for a comment, other than to email the Arizona Capitol Times to say that because of how "flooded with calls and emails" his campaign has been, he is taking a break from media queries.

"There is just simply not enough Cesar Chavez to go around," he wrote. "We may resume questions starting May 10 [sic]."

Chavez did lay out some ground rules for media questions, should he be able to get to them. Questions must be screened, no more than five questions, no question longer than five words and Chavez will not discuss his name change, he explained in the email.
Dude, just be a multimillionaire. That's how you become a Congressman.
[Arizona Capitol Times]
[Image via TeaPartyCheer.com]
—
>> Follow Tina Nguyen (@Tina_Nguyen) on Twitter
Have a tip we should know? [email protected]