White House Apologizes To Krauthammer For Incorrect Claim That Churchill Bust Was Not Removed
White House Apologizes To Krauthammer For Claiming Churchill Bust Was Not Removed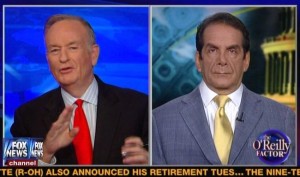 After Washington Post columnist Charles Krauthammer wrote that the White House had returned a bust of Winston Churchill to the British government in 2009, the White House vigorously denied Krauthammer's claim. However, the British embassy soon confirmed that Krauthammer was correct, and earlier today, White House Communications Director Dan Pfeiffer apologized to Krauthammer, posting the e-mail he sent Krauthammer on the White House website.
RELATED: British Embassy Confirms Krauthammer Right, White House Wrong: Churchill Bust Returned in 2009
Pfieffer attributed the White House's incorrect claim to "an internal confusion" and offered a sincere apology to Krauthammer. Here's the e-mail in full:
Charles,

I take your criticism seriously and you are correct that you are owed an apology. There was clearly an internal confusion about the two busts and there was no intention to deceive. I clearly overshot the runway in my post. The point I was trying to make – under the belief that the Bust in the residence was the one previously in the Oval Office– was that this oft repeated talking point about the bust being a symbol of President Obama's failure to appreciate the special relationship is false. The bust that was returned was returned as a matter of course with all the other artwork that had been loaned to President Bush for display in his Oval Office and not something that President Obama or his Administration chose to do. I still think this is an important point and one I wish I had communicated better.

A better understanding of the facts on my part and a couple of deep breaths at the outset would have prevented this situation. Having said all that, barring a miracle comeback from the Phillies I would like to see the Nats win a world series even if it comes after my apology

Thanks,

Dan Pfeiffer
Krauthammer reacted to the apology on The O'Reilly Factor tonight, telling Bill O'Reilly that the British had an "extremely negative" reaction to the Obama administration returning the bust, which was loaned to George W. Bush following the 9/11 attacks.
Watch the Fox News video below:
—–
Follow Josh Feldman on Twitter: @feldmaniac
Have a tip we should know? tips@mediaite.com
Josh Feldman - Senior Editor