White House Calls Out GOP 'Hand-wringing' Over Trump While They Still 'Pledge Fealty' to Him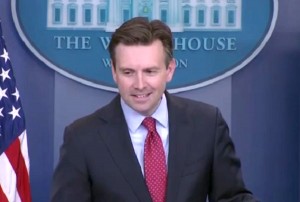 For the past several days, Donald Trump's Republican opponents have opportunistically denounced him over the building violence and tension at the frontrunner's rallies, even going so far as to say that someone might get killed as a result, yet all three continue to insist they will still support Trump if he's the Republican nominee. On Monday afternoon, the White House called out Ted Cruz, Marco Rubio, and John Kasich over the contradiction.
At Monday's White House daily briefing, Press Secretary Josh Earnest delivered a lengthy contrast between Trump's rhetoric and the loftier themes that President Obama has espoused throughout his political career, then trained his sights on the Republican candidates who have been attacking Trump:
Unfortunately, we do still see prominent Republican after prominent Republican line up and pledge to support Mr. Trump if he's the party nominee. And for the life of me, I just don't understand how they do that. It makes it a little hard to take seriously their hand-wringing about his divisive rhetoric, and the kinds of messages that he's delivering in the context of his political rallies.

It's pretty clear, I think to most people, to most observers, exactly what Mr. Trump is up to, but it's not clear at all what the rest of the Republican Party is up to. Because on one hand, they wring their hands about Mr. Trump's behavior, but then when asked, they pledge fealty to his campaign in the hopes that he will be elected to lead the greatest country on the planet. At some point, somebody in the Republican Party is going to have to step up and show some leadership. But we've been waiting awhile.
To be fair, after concluding that Trump's campaign might eventually kill someone, Rubio did allow that it's "getting hrder every day" for him to support a potential Trump ticket.
Have a tip we should know? tips@mediaite.com