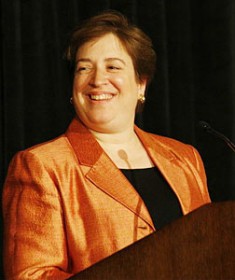 The White House is starting to behave as though they have something to hide. Or at least that they have something they think they should hide. After a strong push to keep the focus on SCOTUS nominee Elena Kagan's upbringing and "real life" story — likely as a way to distract from her paper trail — the White House doesn't seem too keen to let reporters do their own digging. Get a load of this from the New York Times City Room blog.
The New York Times received permission on Tuesday from Hunter College High School in Manhattan, Elena Kagan's alma mater, to observe a constitutional law class there taught by her brother Irving. We thought it would be intriguing to watch the give and take between Mr. Kagan, who is known as a passionate and interactive educator, and his students on his first day back after witnessing his sister's nomination in Washington.

Mr. Kagan, who is also a Hunter alumnus, did not have a problem with the idea, a school spokeswoman said, but she added that all media requests now had to be given final approval by the White House. The times were tentatively set: there was either an 8:52 a.m. class or a 9:36 a.m. class on Wednesday. "I thought it would have been great," said the spokeswoman, Meredith Halpern.

But when presented with the idea, the White House balked.

Joshua Earnest, a White House spokesman, said that the administration was "uncomfortable with the idea at this time." The White House called Hunter, and Ms. Halpern said later Tuesday it could not permit the class observation. A formal proposal has been submitted to the White House, which the administration requested. They asked that it outline the intent and goal of the article in significant detail.
A cousin of Kagan's is apparently also balking on participating in a follow-up story, but won't say why. Among a slew of other problems this ostensibly presents for a supposedly media-savvy organization, this strikes me as an utterly idiotic move on the part of the White House; one that will merely guarantee the media doubles down on its coverage of her personal life. It also raises some questions as to why the White House is maybe, possibly, so terrified of any suggestion Kagan might be gay… honestly, this is the sort of thing the White House should be leading on. Meanwhile, you just know that there are a slew of TMZ reporters out there trying to hunt down a former boyfriend and/or date of Kagan's, and if they're not already, behavior like this on the part of the White House pretty much ensures they will be very soon.
Have a tip we should know? tips@mediaite.com