White House Fires Back at Christie Over Claims That Obama Doesn't Support Police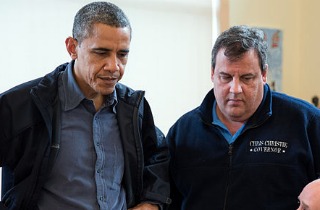 As President Barack Obama heads to New Jersey to discuss criminal justice reform, the White House fired back at Gov. Chris Christie today, slamming Christie's suggestion that the president does not support police.
Press secretary Josh Earnest said Christie's "particularly irresponsible" comments are "not surprising for somebody whose poll numbers are closer to an asterisk than they are double digits," positing that Christie's criticism is an attempt to elevate his flailing campaign.
"Clearly this is part of his strategy to turn this around," Earnest said, adding, "we'll see how that works out."
Obama originally discussed the #BlackLivesMatter movement at a criminal justice forum, insisting the black community is not "making this up."
"What they were suggesting was there is a specific problem that is happening in the African-American community that's not happening in other communities. And that is a legitimate issue that we've got to address," Obama said.
Appearing on CBS' Face the Nation, Christie said that Obama's support for the #BlackLivesMatter movement encourages "lawlessness," telling host John Dickerson, "I don't believe that movement should be justified when they're calling for the murder of police officers." And Christie has been touting law enforcement a lot today:
I've signed an executive order declaring Nov 5th as Law Enforcement Appreciation Day in NJ from now on https://t.co/hNU1Jn4p5w

— Governor Christie (@GovChristie) November 2, 2015
It's not enough to simply smile and nod at the tremendous work being done by all those in uniform https://t.co/hNU1JmMNGW

— Governor Christie (@GovChristie) November 2, 2015
Proud to stand with the men & women of @CamdenCountyPD & to acknowledge all law enforcement for their service. pic.twitter.com/Xd6USQ1JHR

— Governor Christie (@GovChristie) November 2, 2015
[image via White House]
Have a tip we should know? tips@mediaite.com