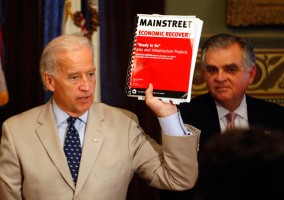 On the heels of what might be the beginning of a truce between Fox News and the Obama administration, the White House is now calling out another major news organization. Late last night, the White House's Recovery Implementation Office released a detailed rebuttal of what it called a "misleading" report by the Associated Press. While the AP hasn't been stripped of its legitimacy, the reaction does seem a little bit harsh.
The gist of the AP report is that the first round of Recovery Act data posted on the internet contained significant overreporting of jobs created/saved. They interviewed Ed DeSeve, Senior Advisor to the President for Recovery Act Implementation, for the piece, the same adviser who made this statement as part of the White House's response:
"This story draws misleading conclusions from a handful of examples. It looks at only a small portion of the data – an initial upload of data representing just two percent of Recovery Act spending – that was made publicly available before a full review of its accuracy could be done. Virtually all of the errors found by the AP had already been found by our review, and were already corrected in an update to be loaded onto Recovery.gov this week.

Tomorrow, more than 100,000 recipient reports will be posted on Recovery.gov. Unlike the small number of reports reviewed by AP, these reports have been reviewed for weeks, errors have been spotted and corrected, and additional layers of review by state and local governments have further improved the data quality. As a result, whatever problems the early and partial data had, the full data to be posted on Friday will provide the American people with an accurate, detailed look at the early success of the Recovery Act."
He goes on to present "the real facts on the misleading AP story on the Recovery Act recipient reporting process."
The problem is, the Associated Press notes all of this in their story, with one exception. Rather than concluding that the much larger round of reporting will definitely be more accurate, they say "The reporting problem could be magnified Friday" when the new data is posted. The AP does quote DeSeve's assurances that the new data will be more reliable.
DeSeve's "real facts" consist of things that are either already in the AP's report, or won't be available until Friday. It doesn't seem fair to punish the AP writers for their lack of a time machine.
I've had problems with AP reporting in the past, but in this case, they're on solid footing. The fact that they found errors is newsworthy, and they provided fairly broad context for their story. DeSeve should have thought of a way to tell his side of the story without trashing the AP.
Here's the full text of the White House's response to the AP article:
Next page: The White House Response to AP Story on Recovery Act
Have a tip we should know? tips@mediaite.com