White House: Shutdown Has Furloughed 4 Nobel Scientists, CDC Flu Surveillance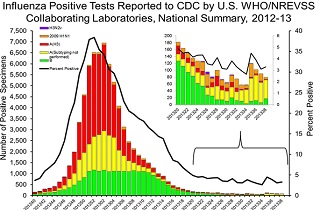 The Nobel Prize and the government shutdown were both in the news this week, for different reasons, but they're also linked by the shutdown briefing that President Obama received Sunday morning. While the mainstream media has established that the shutdown has had no effect on the output of three-minute Youtube videos, it has resulted in the furloughing of four Nobel Prize-winning scientists, and the suspension of the Centers for Disease Control's flu surveillance program. From a White House official, via email:
Today, the President was briefed by Denis McDonough on the impacts of the lapse in appropriations on important research programs.

The federal government's research agencies have been largely shuttered, with scientists sent home and projects shelved.  There are five Nobel Prize-winning researchers currently working for the federal government, all of whom are world-renowned scientists and leaders in their field.  Four of them are currently furloughed and unable to conduct their federal research on behalf of the American public due to the government shutdown.

Additional details below:

•          Center for Disease Control: Two-thirds of CDC personnel have been sent home. CDC's activities in influenza surveillance and monitoring have been cut back, just as we are moving into peak flu season.  While many flu vaccines are produced by private companies, CDC's annual flu vaccination campaigns have been cut back and the weekly "Flu View" report that is relied upon by public-health authorities has been suspended.  CDC will continue to address any imminent threats to public health.

•          National Science Foundation: 98 percent of the National Science Foundation has been furloughed, and new scientific research grants are not being issued.

•          National Institute for Health: Currently, nearly three-quarters of NIH staff have been furloughed.  Although the NIH Clinical Center remains open for patients already enrolled in studies, most new patients have been turned away during the shutdown.  NIH will continue to monitor its admissions policy and adjust as necessary based on life and safety considerations, depending on the duration of the shutdown.
The CDC' s last Flu Surveillance report was for the week ending September 21:
WHO and NREVSS collaborating laboratories located in all 50 states and Washington, D.C. report to CDC the number of respiratory specimens tested for influenza and the number positive by influenza type and subtype. Region specific data are available at http://gis.cdc.gov/grasp/fluview/fluportaldashboard.html.
The flu kills thousands of people in the United States each year, particularly young children and the elderly, but the numbers vary widely:
The number of seasonal influenza-associated (i.e., seasonal flu-related) deaths varies from year to year because flu seasons are unpredictable and often fluctuate in length and severity. Therefore, a single estimate cannot be used to summarize influenza-associated deaths. Instead, a range of estimated deaths is a better way to represent the variability and unpredictability of flu. An August 27, 2010 MMWR report entitled "Thompson MG et al. Updated Estimates of Mortality Associated with Seasonal Influenza through the 2006-2007 Influenza Season. MMWR 2010; 59(33): 1057-1062.," provides updated estimates of the range of flu-associated deaths that occurred in the United States during the three decades prior to 2007. CDC estimates that from the 1976-1977 season to the 2006-2007 flu season, flu-associated deaths ranged from a low of about 3,000 to a high of about 49,000 people. Death certificate data and weekly influenza virus surveillance information was used to estimate how many flu-related deaths occurred among people whose underlying cause of death was listed as respiratory or circulatory disease on their death certificate.
Have a tip we should know? tips@mediaite.com