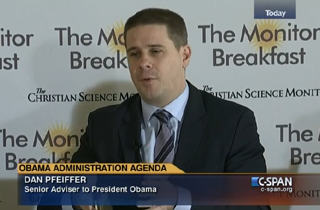 During a press breakfast, White House Senior Advisor Dan Pfeiffer officially began the positive happy sunshine Obama messaging tour, the message being: We're winning, even though we lost in the midterms.
"We feel very good about how the last two and a half weeks have gone here," Pfeiffer said during a breakfast held by the Christian Science Monitor. "Typically when you have a change in power in Congress, the new Congressional majority dominates the conversation and drives the discussion. Since essentially right after the election it's been the president who has been driving the discussion in this town, moving forward aggressively on core priorities."
Even though the Democrats lost, with many Southern candidates scrambling away from any association with the Obama agenda, Pfeiffer insists that the only losers were the ones affected by "local" issues:
There is no question for an array of reasons, the geography of the various Senate races, the President was not in a position — let me put it this way. The 2014 Congressional action was very much around local issues. It was not about a broader discussion. I think that was the right strategic decision. We were not in the place to make an aggressive argument for our agenda like the President did last night. I think we feel, post-election, we have had good opportunities to do that around the climate agreement with China, net neutrality, and now around immigration last night.
Pfeiffer's appearance is the latest in a White House press offensive to assure the American public that they have no confidence that they can work with a Republican congress.
[h/t BuzzFeed]
[Image via screenshot/CSPAN]
— —
>> Follow Tina Nguyen (@Tina_Nguyen) on Twitter
Have a tip we should know? tips@mediaite.com