Whitey Bulger to Boston Teens: 'My Life Was Wasted and Spent Foolishly, Brought Shame'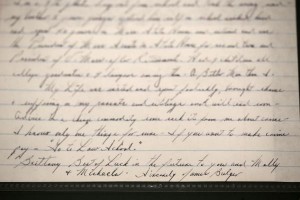 Two years after his capture in Santa Monica, Boston mob boss James "Whitey" Bulger was convicted on several counts of murder, racketeering, and conspiracy in a federal courthouse in Boston in 2015. He's currently serving two consecutive life sentences at a federal penitentiary in Sumterville, Fla. And since Bulger is 85 years old, he'll likely spend the rest of his life in prison — impending appeals to the contrary.
Bulger never demonstrated any guilt or remorse for his crimes. Not while he was on the run from the FBI for 16 years, and especially not during the trial. According to the Boston Globe, however, Bulger decided to be a little gentler in his demeanor when he wrote to three high school girls in Lakeville, Mass. He even confessed, at least, to taking "the wrong road."
Brittany Tainsh, Michaela Arguin and Mollykate Rodenbush decided to focus on Bulger's life for a National History Day leadership competition at the Apponequet Regional High School. Other projects focused on dead presidents and famous figures. They chose Bulger and wrote to him in February, asking for his thoughts on being a leader.
It was a shot in the dark (too soon?), but Bulger responded with a handwritten single-page letter. "He did not really reply to any of our actual questions," says Tainsh, thought "he was very apologetic." So what did Bulger actually write about in a letter addressed to three teenagers?
The harm he caused his family:
"My life was wasted and spent foolishly, brought shame + suffering on my parents and siblings and will end soon."
Why he wasn't a good topic for a high school project:
"Don't waste your time on such as I — we are society's lower, best forgotten, not looked to for advice on 'Leadership.'"
A joke:
"Advice is a cheap commodity some seek it from me about crime — I know only one thing for sure — If you want to make crime pay — 'Go to Law School.'"
[h/t Boston Globe]
[Image via Twitter]
— —
>> Follow Andrew Husband (@AndrewHusband) on Twitter
Have a tip we should know? [email protected]