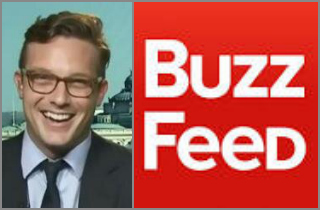 If you were to meet Benny Johnson, the former BuzzFeed "viral politics" editor who was fired Friday for plagiarism, your immediate impression of him would likely be one of three: You'd have found him to be a pleasant and polite guy; or you'd have thought he's a little ostentatious; or you'd simply wonder if he's gay.
I know this because I've known Benny for several years and that's almost always how it goes when someone tells me they met him.
For the record, Benny is not gay, as I've met his longterm girlfriend a number of times. But those other impressions are real. Benny is pleasant; he's remarkably witty and notably well-dressed. He's polite in conversation, at least seeming to care about the inconsequential details of other peoples' lives. And, yes, he's quick to say or do things that he thinks are likely to impress his present company — he name drops; he talks about the cocktail parties he's been to lately.
I met him in Washington, D.C., where we both live, at a party celebrating the launch of Andrew Breitbart's book Righteous Indignation. At the time, Benny was working at the conservative Accuracy in Media and I was in book publishing. I don't remember our brief conversation but I remember coming away from it thinking, "Was he making fun of me?"
When Benny meets new people, he smiles but it's pulled a little too tight. He blinks a little too much. And his voice is a little too soft. Later I would realize that this was Benny turning on his own type of charm.
And that's clearly benefited him in the past. Benny is popular among many media and political types in D.C. The twenty-somethings on Capitol Hill (particularly women I've talked with) adore him.
"He has a gift for ingratiating himself with people — back-slapping, buying a drink — whatever it takes," said one former colleague. "Obviously, a few people find it off-putting, thinking he's a shameless pleaser. And they're probably not wrong. Nevertheless, he's a popular guy. It obviously works for him."
Ingratiating is the key word. Benny once spent a month tweeting out digitally-altered cat photos to any member of Congress that would follow him on Twitter. The campaign raised the question in media circles as to whether his career goal was to inform and enlighten, or to network upwards.
In 2012, Benny joined TheBlaze as a multimedia producer, where I had been working for several months. He mostly published stories meant to enrage conservatives, like ones featuring Louis Farrakhan saying racist things. They were popular with the site's audience and, understandably, they pleased the bosses.
Benny later joined BuzzFeed in January 2013, having worked at TheBlaze for less than a year. It was good timing for him, too. He hopped on that ship as BuzzFeed was burning white-hot in popularity, especially in media circles. The still-new team of serious political reporters brought on to accompany all those whimsical list creators was something of a sensation. They were the new, talented cool kids.
As a result, Benny's own profile soared. His well-developed eye for detail and the politically-absurd lent itself nicely to BuzzFeed, which, in return, gave him a nice platform to churn out stories that tickled D.C.'s funny bone.
That sometimes landed in hot water. For instance: One post that described Egypt's violent revolution using Jurassic Park movie GIFs. But no matter: Benny could then publish a cute story about former president George H.W. Bush's socks. All better; all was forgiven. His Twitter following and fan base continued to grow; he gave a TEDx speech at his alma mater.
But as anyone in media knows, that level of adoration tends to have an ugly side-effect: Arrogance.
The people sitting on top often lose perspective and start to feel entitled. They're special. Washington Post media blogger Erik Wemple touched on that, ever so lightly, in a column about Benny, his plagiarism and his termination from BuzzFeed:
"There are four interpretations of his actions:" Wemple wrote, "Very brazen, very lazy, very ignorant, or very entitled. Or perhaps a blend of the four."
Is that a fair assessment?
"Very brazen"? Well, we've already documented his reputation for shamelessness.
How about "lazy"? I've seen Benny at work. Those Farrakhan clips would take him sometimes days to watch, cut and piece together. He's not lazy.
"Ignorant"? With that, Wemple suggested it's possible Benny may have been "ignorant" of journalism rules and ethics. It's hard to entertain this one, as plagiarism is a concept understood by most everyone who made it out of grade school. As Benny's former BuzzFeed boss Ben Smith, told Wemple: "I don't think there's anyone who gets out of high school thinking it's OK to copy term papers."
That leaves "very entitled."
Unprompted, a former Johnson colleague offered this theory on why Benny would stoop to plagiarism: "He likely became too sure of himself, his abilities and his standing in D.C.'s very limited, navel-gazing world of journalism."
There are other media professionals standing in Benny's corner following his firing, though. Jason Howerton, who works at TheBlaze, tweeted his support on Saturday. "As a former co-worker of Benny Johnson, he's a good guy who made some bad calls," he said.
Yahoo! News reporter Chris Moody, a popular reporter in D.C. known to be good friends with Benny, similarly tweeted, "Hire Benny Johnson now."
For my part, I'm surprised U.S.S. Benny sank for plagiarizing. He seemed smart and savvy enough to know better, but given the culture, I'm not particularly surprised he sank.
Benny's mistake wasn't becoming popular; it was perhaps the thinking that being popular made him exceptional.
But how popular is he now anyway?
"To the writers who were not properly attributed and anyone who ever read my byline," Benny tweeted shortly after his termination, "I am sincerely sorry."
The vast majority of responses were not kind.
Read one of the replies: "Can you say that using Jurassic Park GIFs?"
Benny did not respond to multiple requests for comment for this column.
— —
>> Follow Eddie Scarry (@eScarry) on Twitter
Have a tip we should know? tips@mediaite.com