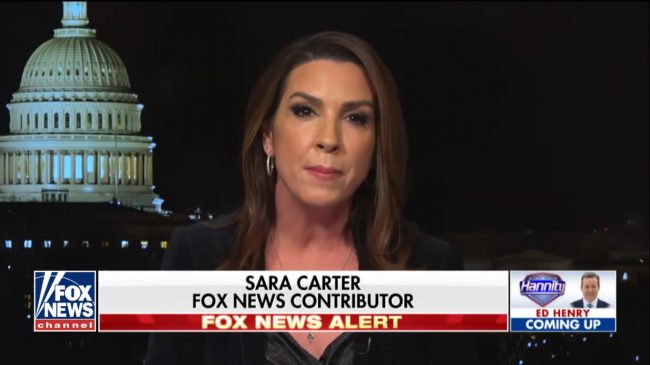 Over the past year, with the Russia investigation taking up most of the oxygen in the political news world, you may have heard the name Sara Carter bandied about. With Fox News' Sean Hannity focusing most of his recent attention on running a counter-narrative that the real Russia collusion was by Democrats and Hillary Clinton — and that there's an anti-Trump, pro-Clinton Deep State in the FBI and DOJ that's pushing a false narrative against the president — Carter has been Hannity's go-to reporter. On a nearly nightly basis, Carter can be seen on Hannity's hit primetime program, hyping up her latest explosive report — a report that tends to serve as the factual basis of that evening's "tick tock" monologue by Sean.
So, of course, the question arises — who exactly is Sara Carter?
Carter didn't exactly come out of nowhere. Before becoming a nightly fixture on Hannity, she had built up a very solid resume of reporting, largely for right-leaning media outlets. After beginning her career with the Los Angeles News Group, Carter spent a few years with both the Washington Times and Washington Examiner as a national security correspondent, spending much of her time in the Middle East. She followed that up with a two-year stint at TheBlaze, where she served as a host of the docuseries For The Record and worked as a reporter. Much of her work there focused on national security and terrorism.
It was her time writing at Sinclair-owned Circa News, however, that really pushed her into the cable news spotlight, at least among conservative media consumers. During the first months of Trump's White House tenure, Carter — along with John Solomon, who was Circa's chief creative officer at the time — published a series of reports that helped shape a narrative that the real scandal of the Russia probe involved unmasking by the intelligence community and potential anti-Trump bias at the FBI.
While many of those Carter/Solomon pieces were straightforward reporting framed in a certain light to push a specific narrative, a trend developed in Carter's individual pieces since — the use of anonymous sources in reports drawing increasingly sensationalistic conclusions. (Solomon left Circa in July 2017 to become executive vice president of digital video for The Hill.)
For example, a January 31st piece of hers said "sources tell this reporter" that GOP members of Congress, ex-intelligence officials and whistleblowers were expressing concern that the White House wouldn't release the Nunes memo because the FBI was pushing "false allegations that the memo contains information that would harm U.S. national security." She further reported that "one former intelligence official" had told her that other intelligence agencies were joining the FBI in this pushback.
This is of course more than a little ironic when considering how Hannity presents the reporting on his show compared to that of the mainstream media. While the Fox News host has regularly hosted both Carter and Solomon on his TV and radio programs — often in the same day — to praise them for their intrepid and vital reporting, he's simultaneously blasted outlets like CNN, the New York Times and NBC News as "fake news."
Why? Mostly because he argues that stories posted by those mainstream outlets are false, inaccurate and biased due to, you guessed it, their use of unnamed sources.
A total lie, Fake news. Phony "anonymous sources". Amazing how the left wing media just makes Sh&)(: up. https://t.co/aytDS89o0L

— Sean Hannity (@seanhannity) February 2, 2018
Haha Shocking. "Anonymous sources" again!! Name names!!Maybe these anonymous people can work at @CNN and help with Fake News. Or I can….. https://t.co/1PCHjEjnC7

— Sean Hannity (@seanhannity) May 23, 2017
Solomon has somewhat faded in recent weeks from Fox News broadcasts. In mid-January, both the Washington Post and HuffPost highlighted problems with his reporting, with WaPo noting that his colleagues at The Hill were growing increasingly frustrated with his articles, seeing them as partisan. Per the WaPo report, Hill staffers felt key context was missing from his pieces targeting Trump's sexual misconduct accusers. There was also frustration over Solomon's coziness with Hannity. Since those reports, Solomon has appeared far less frequently on Hannity and other opinion shows like Fox & Friends.
Sara, on the other hand, still appears nightly on Hannity. Following Solomon's departure for The Hill, Carter continued to write for Circa for a few more months, with her last piece published for them in November 2017. Since, all of her reporting has appeared on her personal site, SaraACarter.com. And right around Christmas, Fox News announced that she would officially serve as a contributor with the network.
Carter told Mediaite that she "left Circa in mid-November" and that her stories for that site "were vetted by an extraordinary team of editors and lawyers."
"I have decided to branch out and start my own business," Carter said about the decision to report for her own site. "As a woman in journalism, I believe our stories carry an essential and not often heard voice with regard national security issues and foreign policy issues."
We reached out to Circa about Carter's time at the outlet and were told to contact Sinclair Vice President of News Scott Livingston. Regarding her departure from Circa News, Livingston responded to our inquiry by stating that they "don't discuss personnel matters."
Since being hired by Fox as a contributor, her on-air role at Fox has largely remained unchanged from her time as a frequent Hannity guest. Per our own research, Carter's appearances have been limited to the opinion and entertainment side of the network. For the most part, she has appeared on Hannity, with some occasional Fox & Friends spots. She has not, however, been invited on straight news programs such as the ones hosted by Bret Baier, Shepard Smith or Martha MacCallum.
As for Carter's work for her own website, she has reported a number of stories — with the help of anonymous sources — that drove conservative news cycles. A Jan. 16 piece reported that Fusion GPS was still investigating ties between Russia and Trump but that it wasn't known who was paying for the research. It was based on "several sources who spoke to this reporter." The following day, she had another story out based again on "several sources who spoke to this reporter" reporting that Clinton confidant Sidney Blumenthal was interviewed by the FBI in connection with the dossier. In a Jan. 10 article, Carter reported that the "dossier was used as evidence by the FBI to gain approval from a secret court to monitor members of Trump's team," citing "multiple sources." She also noted in the piece that Hannity "had independently confirmed" the dossier was used to obtain a FISA warrant.
Tuning into any episode of Hannity, you can generally see how Sean takes a Carter report based on unnamed sources, and then runs with it as fact. Let's take Jan. 31 broadcast, for example. During a panel discussion that included Fox News legal analyst Gregg Jarrett and Rep. Matt Gaetz (R-FL), Hannity asked Carter to share her reporting on former Deputy FBI Director Andrew McCabe asking members of the FBI to alter documents.
Stating that she'd "spoken to a number of sources," Carter went on to report that McCabe had asked "an FBI official actually" to make changes to sensitive documents. She went on to add that she couldn't "talk about" which particular doc McCabe wanted altered but there was "one person in particular" that believed McCabe asked FBI agents to make the changes.
"What you are saying is, assuming we got the memo tomorrow, that means the day after, and that means next week, and a week after, that we are going to find even more abuse than what it is I'm talking about, right?" Hannity asked, demonstrating his regular tactic of tossing out leading questions.
"Absolutely," Carter answered, happy to make the leap from speculation to fact.
Reporters like Ryan Reilly, who covers the Department of Justice for HuffPost, have expressed concerns over Carter's reporting. In an article on Gregg Jarrett's recent claim that sources told him Deputy Attorney General Rod Rosenstein threatened US congressman with subpoenas of their calls and texts, Reilly wrote the following:
These days, the most explosive and unsubstantiated claims getting aired on Fox News aren't coming from its national security reporters, such as Catherine Herridge. Instead, they're coming from figures like Jarrett and Fox News contributor Sara Carter, who appears to be in close contact with the House Intelligence Committee and currently posts her stories on SaraACarter.com. Neither typically appears on the programs Fox News considers hard news.
One can't help but wonder, then, if her reporting is perhaps too flimsy to pass muster when it comes to Fox's hard news division. Why is she being confined to only appearing on opinion shows like Hannity? Does this imply that there is little editorial oversight of her reporting?
One would think that if someone with close ties to a Fox News program is breaking such hard-hitting stories, it would be natural to feature her on their news programs. The fact that they aren't using her gives the impression that her stories are not up to their editorial standards for the hard news division. That doesn't mean that she's making things up, but it could mean that her sources aren't necessarily reliable. By appearing on an opinion programs and then prefacing her commentary on these stories by saying things like "if true," she protects herself and Fox News from inaccuracies because she's not serving in the role of a news reporter.
In response to a series of questions from Mediaite, Carter defended her sourcing and overall reporting methodology — noting that she works with an editor on the stories posted to her site.
"Since posting stories in recent weeks on SaraACarter.com I've been lucky enough to have an editor work with me on my stories before posting," she said. "Everyone needs a good editor."
Carter, however, did not provide the name of the editor that is working on her stories and her site offered no additional details.
So, how should we look at Carter and her reporting? Is she the real deal who's digging deep and working her sources to truly get to the bottom of national security stories the mainstream media is ignoring? Is she a hyperbolist who is taking advantage of Trump supporters' anger over the Russia probe to sell them some magic beans? Is she maybe a bit of both?
The Daily Beast's Lloyd Grove, who wrote about Carter last summer in a piece noting that Circa had become Hannity's favorite source for juicy blockbusters, told Mediaite the following when it came to the Fox News contributor:
"To the extent that the news media in general isn't taking Devin Nunes's FISA memo with the seriousness he thinks it deserves — or is giving short shrift to Hillary Clinton's collusion-with-the-Russians story — Sara Carter is energetically filling a void, and it's hardly a surprise that she is Sean Hannity's — and perhaps even Donald Trump's — favorite reporter."
No arguing with that. Sara Carter is definitely filling a role for an audience that is ready and waiting every night.
Additional reporting provided by Ronn Blitzer.
[image via screengrab]
—
Follow Justin Baragona on Twitter: @justinbaragona
Have a tip we should know? tips@mediaite.com