Whole Foods CEO John Mackey On Obamacare 'Fascism' Remark: 'I Regret Using That Word'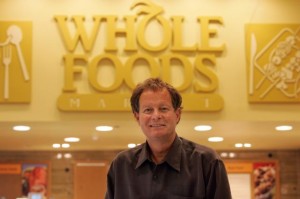 Yesterday, Whole Foods CEO John Mackey made a splash when, an NPR interview, he characterized President Obama's Affordable Care Act as "fascism." On Thursday, he walked back his remarks, saying he regretted using that word.
RELATED: Whole Foods CEO John Mackey Calls Obamacare 'Fascism'
"I made a bad choice of language," Mackey said on WNYC's Brian Lehrer Show. He went on:
I was trying to distinguish it between socialism so I took the dictionary definition of fascism, which is when the means of production are still owned privately but the government controls it — that's a type of fascism. However, I realize that that word has so much baggage associated with it from World War II, with Germany, with Italy and Spain, that's a very provocative word, so I regret using it. What I do believe in is free enterprise capitalism, and I'd like to see our healthcare system really unleash the power of free enterprise capitalism to create innovation and healthcare progress. I don't think we have that – I think we're moving away from that. So I do regret using that word, I won't be using it in the future.
He made similar remarks to CBS This Morning and the Huffington Post, saying, "I regret using that word now because it's got so much baggage attached to it."
The controversial remarks in question came in an interview with NPR's Morning Edition. Speaking about the healthcare law, Mackey said:
Technically speaking, it's more like fascism. Socialism is where the government owns the means of production. In fascism, the government doesn't own the means of production, but they do control it — and that's what's happening with our health care programs and these reforms.
Audio of the Brian Lehrer Show interview below:

Have a tip we should know? tips@mediaite.com