Why Are People Upset by This Video of Muslims Dancing to Pharrell's 'Happy'?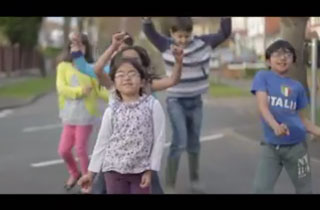 Clap along if you feel like a video of Muslims jamming out to "Happy" is somehow desecrating Islam. Anyone? Someone?
Yesterday, a group of Muslims known as The Honesty Policy in Great Britain released one of those fun, peppy videos where random people dance along and lip sync to Pharrell's hit song "Happy." Except these people were random British Muslims, and the point of the video (titled "Happy British Muslims") was to point out, hey, they can have fun, too! "We Brits have a bad rep for being a bit stiff, but this video proves otherwise," the anonymous collective wrote on their blog. "We are HAPPY. We are eclectic. We are cosmopolitan. Diverse. Creative. Fun. Outgoing. And everything you can think of."
But apparently, there are people in the world who actually think that people singing and dancing along to the nicest, bubbliest, safest song ever, is Not Cool when you're Muslim. The video attracted controversy from other Muslims who considered it "improper" for Muslims to "jump around in that way, whether or not they are on camera." (According to OnIslam.net, that quote was falsely attributed to Cambridge Muslim College scholar Sheik Abdal Hakim Murad, who actually loved the video and participated in it.) Some examples:
Happiness is found in following the Quran and Sunnah, not opposing it and following Pharrell – Happy British Muslims! #HAPPYDAY

— Rami Abu Al Saud (@RamiAbuAlSaud) April 16, 2014
That happy British Muslims video encapsulates everything wrong this ummah. May Allah give them confused individuals Hidaya

— عدنان Adnan (@akhi_ad) April 16, 2014
British Parliamentary candidate Maajid Nawaz gave the backlash some context:
No surprise some Muslims refuse to be happy w/ #HappyMuslims video. See this,taught in certain British Muslim schools pic.twitter.com/lcFAkKzt7k

— Maajid Nawaz (@MaajidNawaz) April 16, 2014
And over at Wilayah.info, Haseeb Rizvi has a more nuanced, less religiously-driven take on the controversy, though he falls firmly on the anti-Pharrell side of the debate:
My issue with the video is not the overall message, not even the music and I'm still debating with myself in my head about the dancing… My issue here is about what this video/stunt actually means. Do British Muslims need to make a video of themselves singing and dancing, to show non-Muslims people they are happy, and by extension normal and 'just like everyone else'?

I feel it is a great sign of weakness if anything, especially if we have to bend Islamic laws on music and dancing in order for the mainstream populace to accept British Muslims as being normal.
Overall, though, the video's already received over 350,000 hits and mostly universal acclaim. The Honesty Policy is embracing the haters: "There are a minority of people who, once they got their hands on it, they did make a fuss and that helped" make it popular, a spokesman told BuzzFeed.
Watch the video below:
[h/t CBC.com]
[Image via screencap]
—
>> Follow Tina Nguyen (@Tina_Nguyen) on Twitter
Have a tip we should know? tips@mediaite.com