Why CNN, Fox and Media 'Moderators' Are Really Accomplices to Political Hackery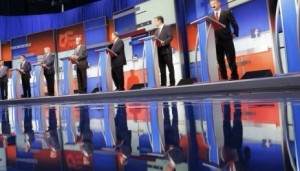 Chris Christie never donated to Planned Parenthood or supported the appointment of Sonia Sotomayor to the Supreme Court; Donald Trump is a pro-second amendment zealot and against letting Syrian Refugees into the U.S.; and Ted Cruz simply made a "paperwork error" in not disclosing to the FEC $1 million in loans he got from Goldman Sachs and Citibank for his 2012 Senate run.
And the Kardashians are a symbol for American intellectualism; George W. Bush won the 2000 Election; and I have a full, non-receding hairline.
If you had to guess which one of these statements is true, you'd have a full day's work ahead. Because aside from W winning — which is dubious at best — none are.
But if you watched the sixth Republican debate from Charleston, South Carolina, you wouldn't know the various declarations from Christie, Trump, and Cruz were straight-up lies.
That's because when Fox Business moderator Neil Cavuto asked Donald Trump about his opposition to Syrian refugees entering America, he left out the tiny little fact that the Donald was for allowing refugees into the country just four months ago.
"I hate the concept of it, but on a humanitarian basis, with what's happening, you have to [let them in]," Trump told Bill O'Reilly in September.
The flame-breathing frontrunner also continued his extreme GOP makeover in the area of guns, again reciting his biblical adoration for the 2nd amendment. Again, neither Cavuto or his co-"moderator" Maria Bartiromo felt it necessary to ask Trump what changed since 2000–when he called for an assault weapons ban and expanded background checks.
Then there was the brash, conductor of the tough-talk express Chris Christie, straight up fabricating not making donations to Planned Parenthood, or performing the cardinal sin of expressing tepid support for Sonia Sotomayor to become a Supreme Court Justice.
"I never wrote a check to Planned Parenthood," Christie said. But 22 years ago, as a local New Jersey politico, Christie boasted about his check to PP.
"I support Planned Parenthood privately with my personal contribution and that should be the goal of any such agency, to find private donations," he told the Newark-Star Ledger in 1994.
Maybe he confused making a personal contribution with writing a check? And maybe the Fox moderators confused journalism with sitting on a park bench and people watching?
The Jersey Boy also fibbed on supporting President Obama's 2009 appointment of Sotomayor to the Supreme Court, denying he lent his endorsement.
And so it goes…
"After watching and listening to Judge Sotomayor's performance at the confirmation hearings this week, I am confident that she is qualified for the position of Associate Justice of the U.S. Supreme Court," he said in '09.
But maybe the juiciest dereliction of basic moderating duty centered around Ted Cruz, who acknowledged making the minor "paperwork error" of forgetting to file with the Federal Election Commission a $1 million loan from Goldman Sachs and Citibank that fueled his Tea-Party ride to the Senate.
Cruz predictably went after the evil New York Times for its audacity in reporting the truth, drawing adoration from the crowd.
On the actual issue, he minimized it as an "inadvertent" mistake to hold back from the FEC — and voters — the fact that he got a vital loan from the same fat-cat banks he propped as punching bags during his freedom-fighting, Tea-Party speed boat to the Senate.
Of course, all of these egregious lies, and failures to point out those lies, are not shockers from a Fox-sponsored debate.
It's the circular media failure loop that's become dangerous; one that allows candidates to spew the equivalent of the sky is green, they're all actually low-income Americans; and wrestling is real—and get away with it.
They do this via their accomplices at CNN, MSNBC, and the hoard of digital pundit sites who no longer exist to report facts, expose lies, and issue searing or insightful commentary on either.
Instead, they've reduced themselves to talent show judges, at the ready with their post-debate scorecards on which lier's lie bested the other lier's lie; who's now up and who's now down; and handicapping the rest of the race.
The result is the same D.C. politics-as-usual that Donald Trump and Ted Cruz have railed against being perpetuated; one rich with flip-flopping, lying about and changing one's record on–the–fly, and duping the American people on who you are and what you stand for.
Maybe some media outlet should have a debate on this.
— —
Jordan Chariton is a Politics Reporter for The Young Turks, covering the presidential campaign trail, where he's interviewing actual voters on both sides along with candidates. Follow him @JordanChariton and watch videos at YouTube.com/tytpolitics
This is an opinion piece. The views expressed in this article are those of just the author.