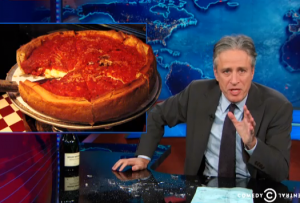 New York and Chicago have what some might describe as a friendly rivalry of sorts, and now it's been amped up to 11 with the New York Freedom Tower overtaking Chicago's Willis Tower as the tallest structure in the United States. Jon Stewart had some fun with the rivalry this week, but it was the scandalous claim that deep dish pizza is "quite good" that really sent him over the edge.
Let me say first that based on the reactions I've witnessed to the bit, this legitimately might be one of the most controversial pieces of commentary The Daily Show has ever done. Stewart, adopting a thick accent, tore apart Chicago's definition of what constitutes a pizza. He said, "Deep dish pizza is not only not better than New York pizza, it's not pizza. It's a fucking casserole!"
And that was one of the tamer things he had to say about deep dish "pizza." The segment was the second pizza-related rant of Stewart's, following an over-the-top takedown two years ago of Donald Trump for guesting Sarah Palin in New York City and taking her to get pizza at a freaking chain restaurant.
Chicago Mayor Rahm Emanuel, not known for being a passive man, decided to have some fun with Stewart, and on Thursday night his office's official Twitter account posted this.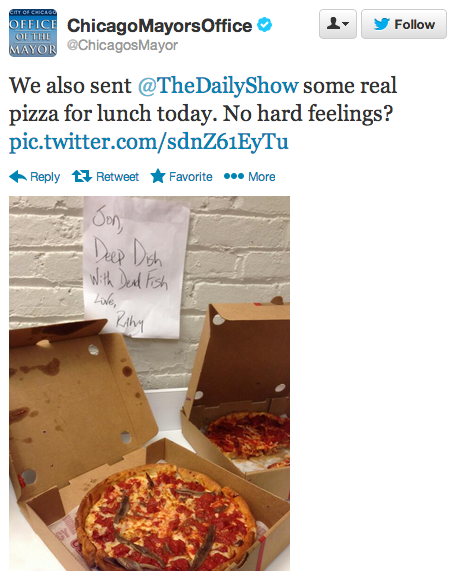 That note reads, "Jon, deep dish with dead fish. Love, Rahm."
But the real cherry on top came when the Daily Show Twitter account posted the following Vine showing what happened when they tried to give the pizza to one of the office dogs.
Even dogs hate your pizza, Chicago! (Then again, it could just be the dead fish. I mean, come on.)
You can watch the rant that started it all here, via Comedy Central:
[h/t NBC Chicago]
[photo via screengrab]
— —
Follow Josh Feldman on Twitter: @feldmaniac
Have a tip we should know? [email protected]
Josh Feldman - Senior Editor