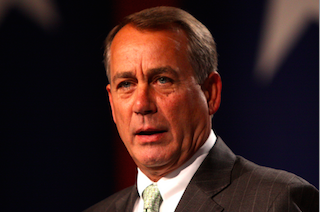 On Wednesday night, the House of Representatives voted 225-201 in favor of giving House Speaker John Boehner (R-OH) the authorization he needs to proceed with his lawsuit against President Barack Obama. The 196 Democrats who voted against the resolution were joined by five Republicans. And by all accounts, at least four of those five conservatives decided to oppose Boehner's lawsuit because it didn't go far enough.

The GOP has been resisting calls for President Obama's impeachment from figures like Sarah Palin, but it appears that impeachment is exactly what these four representatives, Paul Broun (R-GA), Walter Jones (R-NC), Thomas Massie (R-KY) and Steve Stockman (R-TX), wanted. The fifth "no" vote, Scott Garrett (R-NJ), has not gone on the record as favoring impeachment.
Here is what these men have said about the issue of impeachment over the last few months:
Rep. Stockman in January:
"I'm considering filing Articles of Impeachment against Barack Obama. You see, I walked out of Obama's State of the Union address last night. Obama defiantly vowed not only to radically expand the reach of government from cradle to grave, but to smash the Constitution's restrictions on government power while doing it. His goal is to eliminate our constitutional republic. Last year I said I would consider impeachment as a last resort to stop Obama's abuse of power. And, quite frankly, we're running out of options. But I can't do it alone."
Rep. Broun in February:
"If House leadership brought an impeachment vote before the floor, then there would certainly be good reason for doing so, with substantive information and evidence to impeach the President. With the President repeatedly bypassing Congress through executive order, lying to the American people on Obamacare, and failing to address what really happened in Benghazi, I can understand why this would be an important issue to many Georgians right now. What I don't understand, is how a candidate can claim to be a proven conservative, and yet if such a resolution was brought up for a vote, they would oppose it."
Rep. Massie in February:
"Is it a worthwhile thing to start to get a conversation going? Some people think so… You will see a lot of amendments, and I will author some of them, to take away money for some of these unconstitutional things this president is doing."
Rep. Jones on Wednesday:
"Why not impeach instead of wasting $1 million to $2 million of the taxpayers' money?… If you're serious about this, use what the founders of the Constitution gave us."
Ahead of yesterday's vote, Boehner called talk of impeaching Obama a "scam started by Democrats at the White House." While he was able to get 225 Republicans on board for his plan to sue the president instead of trying to impeach him, there are evidently still some holdouts.
Update — July 31, 11:35 a.m. ET: Rep. Thomas Massie released a statement on Thursday morning that further explains why he decided to vote against the resolution:
"I agree that the president must be held accountable for his lawlessness. But the time, effort, and cost to the taxpayer could be more effectively spent," he said, adding that Congress should use "its power of the purse,­ an explicit authority the Constitution gives Congress to keep the Executive in check."
[Photo via Wikimedia Commons]
— —
>> Follow Matt Wilstein (@TheMattWilstein) on Twitter
Have a tip we should know? tips@mediaite.com