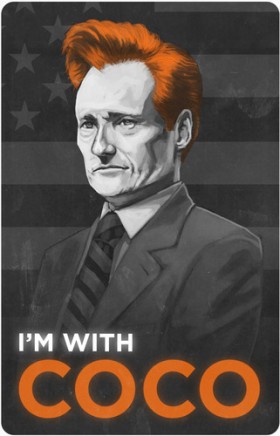 It's pretty obvious that the comedy world is Team Conan. David Letterman, yes, but also Jimmy Kimmel, Patton Oswalt, NBC stars, the Internet — and few have come out in support for Jay Leno (Paul Reiser, Kevin Smith, weakly from Jerry Seinfeld).
But this may be the most earnest response yet: A song written by Upright Citizen's Brigade co-founder Matt Besser, called "King Zucker & the Soldier" (really). There are a few things to know here: (1) the UCB is incredibly influential in the comedy community, and Conan and his staff are regulars within it; other UCB mainstays include Besser's co-founder Amy Poehler, SNL's Seth Meyers and Jason Sudeikis and 30 Rock's Tina Fey and Jack McBrayer (aka Kenneth the Page, who 'endorsed' Conan last night) and (2) the song is written off of Suzanne Vega's "The Queen & The Soldier," a rather intense, moving song about a medieval soldier who tells his queen he won't fight her senseless wars any more — so she has him killed. (The song is actually quite the gut-punch.)
The point is, Besser's effort moves from the jokey into the earnest rather decisively, and it reveals that this issue isn't just one of loyalty to Conan or sticking to a contract. But I was surprised by the vehemence of Besser's response, so I asked him. "The comedy community can't believe that NBC is risking losing Conan, just to keep Jay. It's crazy," said Besser.
But why the vitriol against Leno? Don't his comedy colleagues write and perform for Leno too? I asked Besser about overlap within the comedy community – surely there was some? Here was Bessers rather scathing response:
I don't see any divided loyalties in the comedy community. All comedians who care about comedy love and respect Conan. Not only are Conan and his staff comedic geniuses, they are also students of the art form of comedy. That's why Conan respects the tonight show too much to ruin it. Leno obviously doesn't give a shit. The only good bits he does, he stole from Howard Stern. Leno defines hack. And he's also an asshole for not knowing when to walk away.
Well, he definitely didn't walk away — TMZ is reporting that Jay Leno is back at the Tonight Show at 11:35 p.m. Check out Besser's song below — if Zucker's the King and Conan's the soldier, then one guess who Leno is. NSFW:


Here's the original Suzanne Vega version. You really think it's gonna go the other way at the end…and yet.


"The Queen & The Soldier"

The soldier came knocking upon the queen's door
He said, "I am not fighting for you any more"
The queen knew she'd seen his face someplace before
And slowly she let him inside.
He said, "I've watched your palace up here on the hill
And I've wondered who's the woman for whom we all kill
But I am leaving tomorrow and you can do what you will
Only first I am asking you why."
Down in the long narrow hall he was led
Into her rooms with her tapestries red
And she never once took the crown from her head
She asked him there to sit down.
He said, "I see you now, and you are so very young
But I've seen more battles lost than I have battles won
And I've got this intuition, says it's all for your fun
And now will you tell me why?"
The young queen, she fixed him with an arrogant eye
She said, "You won't understand, and you may as well not try"
But her face was a child's, and he thought she would cry
But she closed herself up like a fan.
And she said, "I've swallowed a secret burning thread
It cuts me inside, and often I've bled"
He laid his hand then on top of her head
And he bowed her down to the ground.
"Tell me how hungry are you? How weak you must feel
As you are living here alone, and you are never revealed
But I won't march again on your battlefield"
And he took her to the window to see.
And the sun, it was gold, though the sky, it was gray
And she wanted more than she ever could say
But she knew how it frightened her, and she turned away
And would not look at his face again.
And he said, "I want to live as an honest man
To get all I deserve and to give all I can
And to love a young woman who I don't understand
Your highness, your ways are very strange."
But the crown, it had fallen, and she thought she would break
And she stood there, ashamed of the way her heart ached
She took him to the doorstep and she asked him to wait
She would only be a moment inside.
Out in the distance her order was heard
And the soldier was killed, still waiting for her word
And while the queen went on strangling in the solitude she preferred
The battle continued on
"I'm With Coco" poster by Mike Mitchell.
Have a tip we should know? tips@mediaite.com