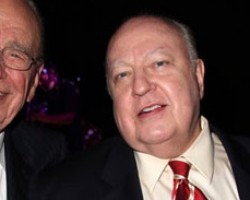 Ever since the New York Times' positive profile of Roger Ailes in Sunday's paper, the focus has drifted to the hyperbolic anti-Ailes quote from Rupert Murdoch's son-in-law Matthew Freud.
Now Ailes himself is responding, as is News Corp. President Chase Carey. And it further proves there is no validity to Freud's claims of Ailes being on the outs at the company.
The Los Angeles Times' Joe Flint contacted Ailes for his reaction to the comment. The FNC Chairman said it "didn't make sense to me," and that stories portraying him as "a dead man" are "being manufactured."
But it was Carey's endorsement in the same article that cemented the 'Ailes on the outs at News Corp.' is truly manufactured. "News Corp. is 100% behind Roger Ailes," he told Flint. "We hope and expect he will continue to lead Fox News well into the future."
Ailes got a final shot in at Freud, who is a descendant of Sigmund Freud, saying Elisabeth Murdoch's husband "needs to see a psychiatrist."
This directly contradicts the storylines of both Lloyd Grove's columns in The Daily Beast (which we addressed earlier this week) and the speculative column by Murdoch biographer Michael Wolff on Newser.com.
While many of Ailes' enemies would like to see his demise, there are no indications that point to it occurring any time soon. To the contrary, all of the power players within News Corp. are publicly supporting the FNC Chairman, and with good reason – his business is thriving. And as it does, and as his pull within News Corp. continues to grow, the haters will continue to come out and stir the pot, even as the pot remains empty.
—–
» Follow Steve Krakauer on Twitter
Have a tip we should know? tips@mediaite.com