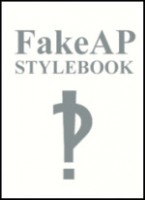 Two weeks after its creation, @FakeAPStylebook has netted more than 40,000 Twitter followers, 2,500 list mentions, and may soon have a book deal. What does it take for a Twitter account to blow up like that?
Tweeting a lot helps. Oh, so does being funny, particularly to AP-embittered journalists. For instance: "All mentions of the band Dokken should be followed by the parenthetical aside '(rhymes with ROCKIN').'"
In two weeks, the Fake AP Stylebook has turned out 292 Tweets; that works out to about 20 a day. And it's very responsive: it tosses out a lot of @ replies to its followers' earnest style questions, which has no doubt contributed to its popularity, though it can be slightly annoying to the casual reader who can't easily go back and see the original Tweets. But that's more a limitation of Twitter than of the guide, which routinely turns out great stuff: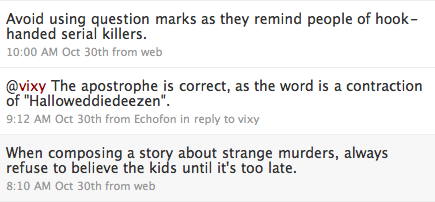 Over at Media Nation, Dan Kennedy has an interview with Mark Hale and Ken Lowery, the masterminds behind the feed:
MN: How did you come up with the idea of doing the Fake AP Stylebook?

Mark: Ken and I were chatting two weeks ago, and he showed me the feed for the real AP Stylebook on Twitter. With the proliferation of "fake" accounts, labeled and otherwise, I remarked to him, "I can't tell if I'm sad or relieved that this isn't a joke feed." Ken got hit by a lightning bolt, he wrote a post about how television shows are denoted and I wrote one about Dr Pepper, each on our own feeds. Then he decided we should start it on its own feed, and off we went.

MN: What's next?

Mark: We and the Bureau Chiefs are currently pulling together a sample chapter as part of a book proposal. We've been approached by three agents, and have finally signed on with one.

We hope to work in a good deal of the Twitter material, but so far we seem to be cranking out original material at a good clip. Other than that, we're going to continue trying to make people laugh for free on the Internet. That's where the real money is these days, after all.
Related:
Media Nation: Should 'anal retentive' be hyphenated?
Dokken: Burning Like a Flame

Have a tip we should know? tips@mediaite.com