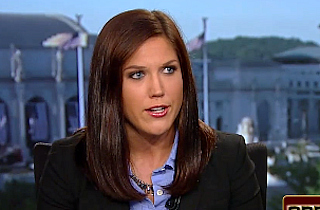 Syrian analyst Elizabeth O'Bagy was fired yesterday from the Institute of the Study of War after the think tank revealed that she had misrepresented her academic credentials.
O'Bagy first came to public attention two weeks ago, when her op-ed in the Wall Street Journal defending the Syrian rebels was quoted approvingly by Arizona Senator John McCain and Secretary of State John Kerry. Both men used her piece to argue that the Syrian Free Army was less intertwined with radical Islamic groups than some had portrayed it to be, and therefore was a more reliable recipient of U.S. support against Assad.
The op-ed first came under attack when it was revealed that O'Bagy had ties to a pro-rebel political action committee, a connection the Wall Street Journal had not disclosed. Perhaps this was what caused the ISW to further investigate their own researcher. Their updated website currently shows:

O'Bagy interned at the ISW while completing a Master's in Arab Studies at Georgetown. An Arabic speaker, she quickly became indispensable to the think thank, which hired her before she had completed her degree. The Institute believed that she was enrolled in a combination Master's/PhD program, and her bio on the website was eventually updated to indicate that she had defended her dissertation.
ThinkProgress' Zach Beauchamp called nonsense on this, finding no trace of O'Bagy as a PhD student at Georgetown. While praising the work she did during multiple trips to Syria—trips not funded by the ISW—Beauchamp noted that at some point during her promotions within the think tank and appearances on Fox and CNN as a Syrian expert, the title "Dr." began to appended to her name.
Other Syrian scholars had started to express doubts about O'Bagy, only 26, charting such a meteoric rise. Huffington Post's Michael Calderone quoted Janine Di Giovanni:
"Those of us who work in Syria, as reporters or researchers, are a very small group of people. We're all incredibly cautious. We're all protective of each other. It's a very difficult job and difficult war to work in. It's not a war to cut your teeth in. A lot of people were quite shocked when a 26-year-old Ph.D, so-called Syria expert who appeared to have never worked in the region, and whom no one had heard of, appeared on CNN and other networks as a Syrian expert."
[Image via screengrab]
——
>> Follow Evan McMurry (@evanmcmurry) on Twitter
Have a tip we should know? tips@mediaite.com