Will O.J. Simpson Be Paroled? Ex-Football Player Could be Released This Year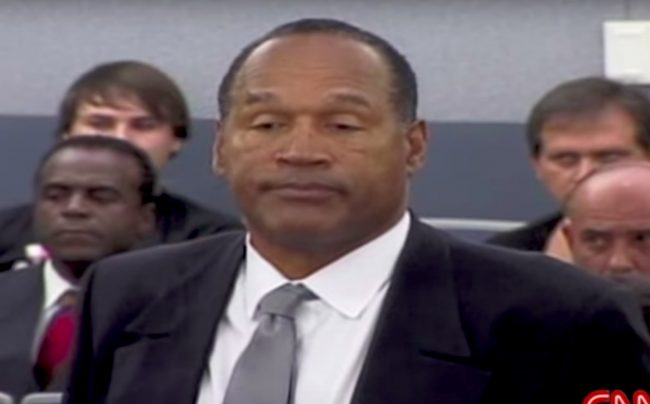 While the you and the media and everyone else was consumed with the implosion of Jon Ossoff last night, you may have missed this curious bit of news.
O.J. Simpson is up for parole and if all goes well, he could be released from prison as early as October, 2017. Really!
The former actor and football star will appear before the Nevada Board of Parole on July 20. Simpson will speak via teleconference from the Lovelock Correctional Center, where he is currently incarcerated.
Simpson, now 70, was the focus of the most famous case of the 1990s where he was ultimately found "not guilty" of the murders of his wife Nicole Brown Simpson and her friend Ron Goldman. He was ultimately arrested and convicted of kidnapping, armed robbery and assault with a deadly weapon after a 2007 incident where he and another man attempted to steal various items of O.J. swag at gunpoint from a hotel room. He is now serving a nine-to-33-year sentence according to CNN.
Simpson has been up for parole in both 2013 and 2014. In 2013 he was granted parole for a number of charges, reducing his overall sentence.
Those close to Simpsons are making the case that, if released, Simpson would be keen to settle down with his family and disappear into private life.
"If he's able to get parole, my prediction is he's going to want to live a quiet life," Simpson attorney, Malcolm LaVergne told NBC.
Simpson has reportedly been a model prisoner  — so hold on to your hats! It could happen.
[image via screengrab] 
Have a tip we should know? tips@mediaite.com