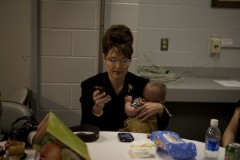 Everything lives forever on the Internet, or so the saying goes. This adage is perhaps what Sarah Palin had in mind when, as Governor of Alaska, she apparently encouraged "family members, advisors and her chief of staff" to use her personal email address instead of her official one because "everyone and their mother will be able to read emails that arrive via that state address." Palin reportedly carried to Blackberries in order to keep the two addresses straight, though according to the Alaska Dispatch that did not keep the then-governor from doing State business on her personal account.
Alas for Palin, everyone and their mother were able for a short time to view her "personal" emails after someone hacked into her Yahoo account and Gawker published some of the contents.
More to the point, however, it's considered a no-no to conduct government business on a personal account partly due to the fact that a government email account is subject to pesky laws about the retention of government records and such, and a personal account may or may not be. (There was, you may recall, some question last fall where Palin had erased emails in the Yahoo account pertaining to the Troopergate investigation.)
The "may or may not be" is what's under debate in Alaska now, thanks to Palin. Last year's email debacle has resulted in one Alaskan requesting the private emails about state business be released under public records law. According to the Alaska Dispatch the "case has raised a key question: As state law stands now, should personal e-mails by state employees be treated as public records?" Which is something a whole lot of politicians should probably be considering right now, including our Blackberried president. Palin of course is free and clear of these questions since resigning from office in July. Unless she decides to make a run for it in 2012 at which point perhaps she will have to reconsider the merits of a Yahoo account.
Have a tip we should know? tips@mediaite.com