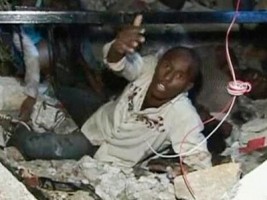 Ever since word broke of a major earthquake hitting Haiti yesterday afternoon, news outlets have struggled to find the right way to cover this story with precious little information. Judging by last night's lack of coverage, cable news might only exist when there is footage for broadcast. Of course, a lack of visuals doesn't make a story any less important, it just makes it harder to cover – which is why both the NY Times and CNN have turned to Twitter feed from individuals.
While the world wonders about the scale of devastation, traditional news sources left the reporting to those on the ground with Twitter feeds. CNN did this very early, creating a Twitter List (@CNN/Haiti .) The NY Times did the same (@nytimes/haiti-earthquake), and many more news organizations are sure to follow suit. It appears that in time of need, the story is what matters most, and just getting eyes and ears from the location is more important than the traditional reporting, editing process of traditional journalistic standards held by both CNN and NY Times – which completely makes sense.
Sadly, the depth and bread of wreckage and loss is most easily told through pictures, and TwitPic has been the first and best source for such pictures. The Twitter feed for LisandroSuero was one of the earliest resources of the destruction and devastation on Haiti.
One can imagine the state of the current infrastructure in Haiti (electricity, cellular phone towers, running water, etc.) What are major news organizations to do in this current state of emergency? Rely on Twitter to first get the story out, in hopes that help is soon on the way.
Note – Help Haiti Now is a newly formed 5013c that is taking tax-deductable donations to help the victims of the Haiti Earthquake.
Have a tip we should know? tips@mediaite.com