With The Season Finale Hours Away, Brian Sack And Head Writer Jack Helmuth Talk The B.S. Of A.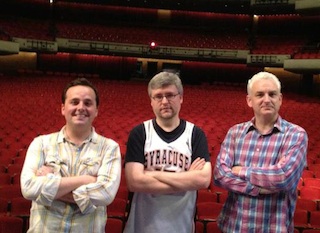 A full year ago (wow!) when Glenn Beck first started talking up his new online network, one of the most interesting components for me was the promised comedy show. When we learned that he had selected Brian Sack as host, it was clear Beck was serious about bringing funny. Right before the premiere, Mediaite talked to Sack about fighting faulty "right-wing Daily Show" expectations as well as following up a less than hilarious Holocaust documentary. Now, a tour, a couple time changes, and lots of songs and puppets later, the season is done and we checked in with both Sack and head writer Jack Helmuth (the two of them are pictured with writer/actor Matt Fisher to the left).
So, Season 1 is in the can. Lets start with the highlights. What were both of your favorite moments or segments from the season?
BRIAN: Certain sketches we've done resonated with people across the political spectrum and that's wonderful because it means we don't always have to be sanctimonious, bitter twats to one another. The TSA opera, for one. And taking on the nanny state whether it's buying cigarettes, ordering lunch, or driving the Chevy Bloomberg. I'm also partial to Shariah Law & Order. And Pumpernickel Boulevard which is our interpretation of Sesame Street.
We've also been soliciting "under-the-table" sponsors outside of the network's actual sponsors. These are small businesses across the U.S. that send the show money to produce a commercial of questionable effectiveness that usually ends with someone getting killed. Ridiculous commercials. We've done quite a few and the response has always been great. With the money we made I bought the staff iPads and a very nice dinner. The remaining money factors in to the season finale in a big way.
JACK: To be honest, I've never seen the show, so I'm the wrong guy to ask.
A lot of shows, perhaps comedy shows in particular, require a bit of a learning curve in the beginning. What was something that surprised you or needed some course correction?
BRIAN: Like any show you're starting off flailing around in the dark before getting your bearings. The great thing is that we're this autonomous show on a fledgling network. We don't have to answer to a room full of corporate suits. That's not the culture here. We ultimately just have to amuse an excitable goateed man with an Armageddon complex whose weight fluctuates wildly. We can try one thing, decide it doesn't work, and try another.
We had a live audience at first but that proved difficult logistically since we taped weekly at an inconvenient time for a no-name show on a network owned by someone New Yorkers burn in effigy. We had monologue jokes but started feeling like everyone has monologue jokes so we played around with that and ultimately dropped them. I was interviewing authors, but who doesn't do that? So we changed it to a The Experts, where I discuss the news with people, living or dead, played by Upright Citizen's Brigade performers. If you've ever wanted to hear Adolf Hitler, Michele Obama and a lesbian truck driver opine on breastfeeding in public, we're your show.
JACK: Back in December we were going to do an experimental piece that dealt with the big pepper spray debate that was raging at the time. Police were using pepper spray quite liberally on protesters around the country and FOX News anchor Megyn Kelly essentially said that it was no big deal since pepper spray was made from vegetables. Matt Fisher, our writer and performer, came up with an idea where I would eat Newman's Own spicy salsa and he would then actually get pepper sprayed in the face and we would see if Megyn Kelly was right. We debated and argued this internally for a full day and finally decided to do it. Matt, after all, came up with the idea and, for the sake of comedy and to make a point, wanted to get pepper sprayed in the face. So I, in my excitement to really do something different, allowed things, gave this the go-ahead, and we shot well over half the sketch until the very point where Matt was going to get sprayed. We were literally seconds away, with our PA standing in front of Matt, holding the spray up to his face, finger on the trigger. At that moment someone from the network intervened and we were told "no, you absolutely cannot pepper spray a freelance employee in the face." And of course, they were right. That was a learning moment for me in a number of ways.
BRIAN: Jack was for pepper-spraying Fisher before he was against it.
Have a tip we should know? tips@mediaite.com