Worst Reporter in D.C. Deletes Terrible and False Tweet Boasting About Kanye West Being 'Born Impoverished'
Washington, D.C.'s resident Yahoo Answers plagiarizer Benny Johnson, now inexplicably employed at the Daily Caller to put red circles on photos, tweeted a wrong and apparently racist tweet while defending rapper and Donald Trump supporter Kanye West.
"A black man, born impoverished & into a broken home, works his way into a multimillionaire global pop star, fashion guru & cultural icon," the Daily Caller reporter tweeted, before writing that liberals call West "mentally ill," a "token negro," say he "can't read," and "attack his dead mother," all because West "dares think politically" and meet Trump.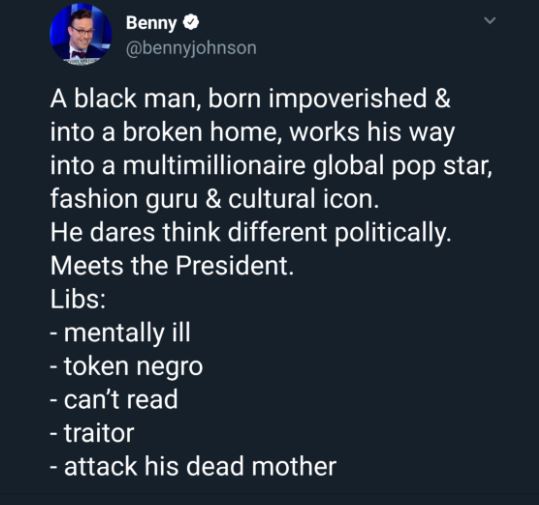 Anyone who actually knows as much about West's career as Johnson pretends to knows that the rapper was not born in poverty. West was born middle class to two parents who had careers. They divorced when West was a small child, but his mother — an English college professor and his primary caretaker — was still financially stable. While other famous Chicago rappers — like Chief Keef and Lupe Fiasco — grew up in the city's notoriously violent South and West Sides, West actually grew up in the suburbs, but that didn't stop Johnson from assuming the black artist was reared in poverty.
Maybe his assumption that West grew up poor is actually just a projection of how the reporter thinks of black people in general, an idea that a number of Twitter users expressed:
Why do you think he was born impoverished into a broken home

Wait I think I know why you think that

— FCS number twooOoOo ?? (@JasonKirkSBN) October 12, 2018
Strange how a white dude who writes for a far-right outfit with no journalistic standards just instantly assumed a black dude grew up in poverty in order to try and win a bad-faith argument

— Midnight Jon ? (@MidnightJon) October 12, 2018
i wonder if benny johnson knows that kanye west (quite famously!) grew up middle-class in the suburbs? or if this is just one of those "he's black so he must have been poor and from a broken home" things? https://t.co/Cmc5SD2WAe

— jamelle g-g-ghoulie ? (@jbouie) October 12, 2018
Tfw you're so attuned to racism you just substitute in some broad stereotypes about black people for the actual circumstances of Kanye's childhood. https://t.co/d9NhXuguAr

— Matthew Yglesias (@mattyglesias) October 12, 2018
Johnson has since corrected the post, choosing to instead tweet about West growing up in a "broken home," given his parents' divorce.
A black man, raised in a broken home, works his way into a billionaire pop star, fashion guru & cultural icon.
Libs cheer.
He dares think different politically & meets the President
Libs:
– Mentally ill
– Token negro
– Can't read
– Traitor
– Minstrel show
– Attack his dead mother pic.twitter.com/gGjBbVg9ZT

— Benny (@bennyjohnson) October 12, 2018
An earlier version of this tweet used the word "impoverished."

I've replaced it with this version for the sake of accuracy & with the intention of owning the libs.

— Benny (@bennyjohnson) October 12, 2018
[image via screengrab]
Follow the author on Twitter (@calebecarma).
Have a tip we should know? tips@mediaite.com