WSJ Editor: Dan Rather Preaching Journalistic Ethics is Like Keith Richards Preaching Abstinence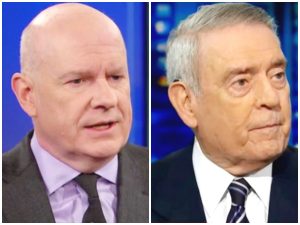 Wall Street Journal editor-in-chief Gerard Baker has come under criticism for his appearance on Meet The Press this past Sunday, specifically his comments regarding reluctance to label falsehoods as lies. Most notably, former CBS Evening News anchor Dan Rather wrote a Facebook post in which he called this editorial philosophy "deeply disturbing."
In an op-ed published Wednesday afternoon on the Journal's website, Baker fired back at Rather, whom he referred to as "a former television newsman of some renown." In the piece, Baker dismissed Rather's criticism in snarky fashion.
"I will confess to feeling a little burst of pride at being instructed in reporting ethics by Mr. Rather," Baker wrote "It feels a little like being lectured on the virtues of abstinence by Keith Richards."
Baker labeled the backlash against his Meet The Press comments as "another fit of Trump-induced pearl-clutching among the journalistic elite." He proceeded to offer a thorough defense of his comments, and the Journal's philosophy regarding the labeling of falsehoods as lies — specifically as it relates to President-elect Donald Trump.
I may believe that many of the things Mr. Trump has said in the past year are whoppers of the first order. But there's a difference between believing that, with reason—my induction from knowledge of the facts—and reporting it as a fact. The latter demands a very high standard of reporting. If we are to use the term "lie" in our reporting, then we have to be confident about the subject's state of knowledge and his moral intent. I can see circumstances where we might. I'm reluctant to use the term, not implacably against it.
Read the full column here, via the Wall Street Journal
[images via screengrab]
–
Follow Joe DePaolo (@joe_depaolo) on Twitter
Have a tip we should know? tips@mediaite.com
Joe DePaolo - Senior Editor