SHOCK POLL: Trump More Than TRIPLES Lead Over DeSantis in First Post-Indictment Poll
In a startling new poll result, ex-president Donald Trump has tripled his lead over Gov. Ron DeSantis following Thursday's indictment news.
Many pundits predicted that the indictment would help Trump in the 2024 GOP primary contest. Some, including former Trump attorney general Bill Barr, claim that the boost to Trump is motive for the indictment. Sen. Ted Cruz called it an "enormous political gift" for Trump.
Predictions were met or exceeded in polling with the newest from Yahoo/YouGov, the first major survey taken after the indictment just days ago.
Trump is leading Desantis 57% to 31% – a huge 26-point lead that triples the previous result of this survey a mere two weeks ago. At that time, Trump was ahead of DeSantis by just 8%, at 47% to 39%.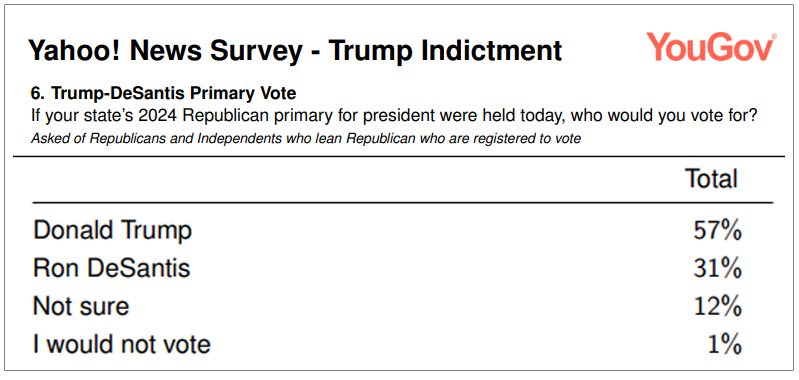 However, as Yahoo points out, on whether Trump should get another term if convicted, the results aren't as favorable.
The Survey asked, "If Donald Trump is convicted of a crime in this case, do you think he should be allowed to serve as president again in the future?"
Among all respondents, just 31% said yes, while 52% said no, he should not. Among Republicans the number was upside down, with 56% saying yes and 24% no, with 20% unsure. So that's a 12% difference between "yes" and not saying "yes."
Yahoo adds:
When asked if they "think Donald Trump did or did not falsify business records to conceal a hush money payment to a porn star," less than half of Republicans (48%) are confident that he did not. Another 17% say he did — and a whopping 35% say they're not sure.
The poll was conducted March 30 – 31 among U.S. adults and has a margin of error of ±3.3%.
Have a tip we should know? tips@mediaite.com
Caleb Howe - Contributing Editor