Steve King Posts Meme Fantasizing About Violent Civil War Between Red and Blue States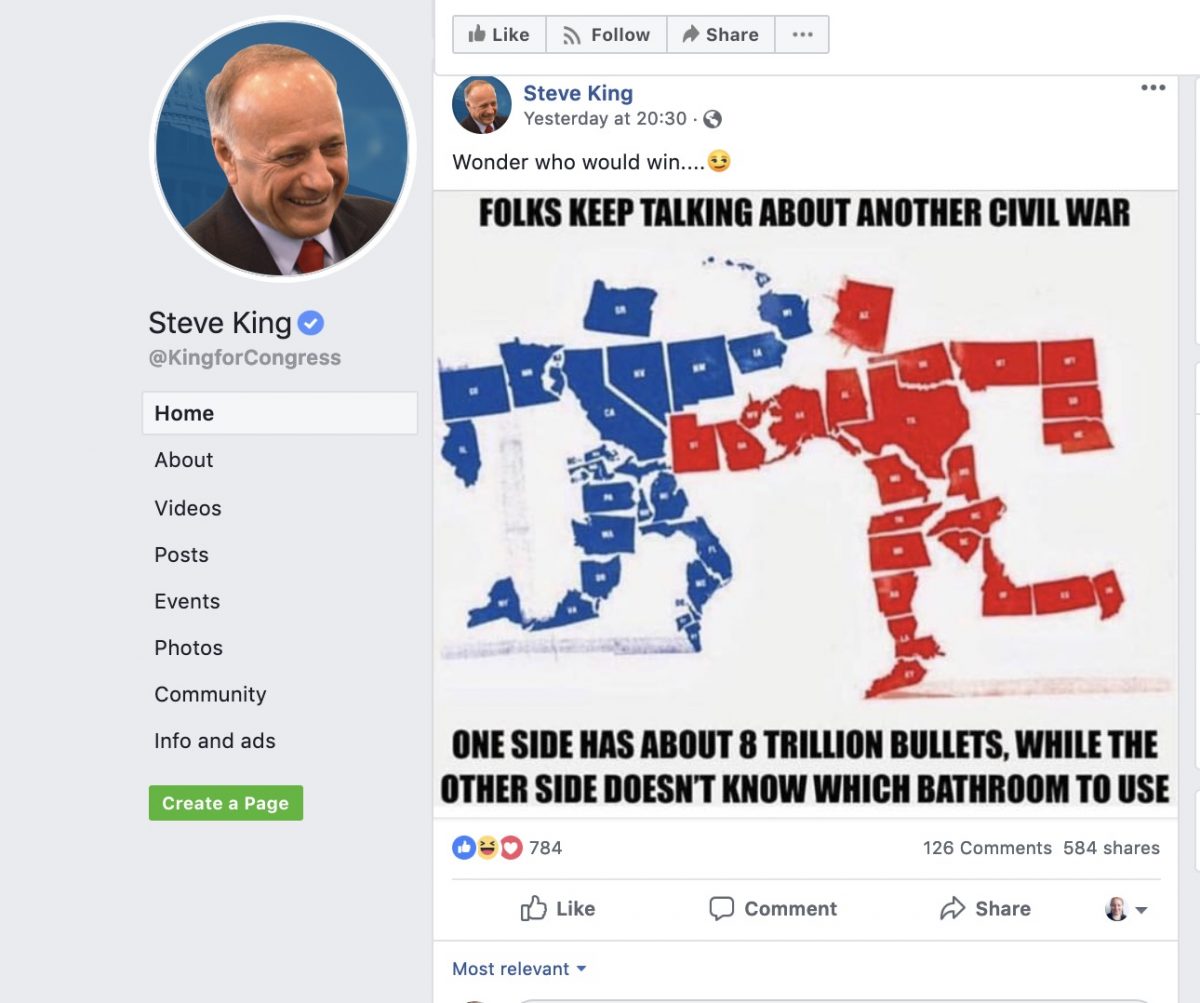 Joining in on the internet asshattery of the past week, Rep. Steve King's verified Facebook account posted a violent meme fantasizing about red states bashing blue states and boasting about how many bullets "one side" has.
The meme was posted just days after the New Zealand massacre that took 50 lives.
The bathroom snark was, no doubt, a reference to transgender restroom use, an issue that is frequently used in far-right dog whistles.
Predictably, King's move was widely panned on Twitter, including by some who noted the timing and called him a "white nationalist."
Tremendous timing by white nationalist Congressman Steve King. https://t.co/3vcujTtH2Q

— Ben Collins (@oneunderscore__) March 17, 2019
Nazi Louie Gohmert is my nick name for Steve king

— Molly Jong-Fast (@MollyJongFast) March 18, 2019
Just the open Nazi @GOP member @SteveKingIA, tweeting about slaughtering his fellow Americans in a civil war. #SundayThoughts https://t.co/KVaYDnYdcB

— ICE is trafficking children (@Mccallforall) March 18, 2019
Yet, many were simply amused because, in an attempt to spread a violent, anti-liberal meme,  King had failed to notice that his own state was right there in the arm of the blue states — or as Vox's Aaron Rupar noted, "the losing side of the graphic."
Steve King is so dense that he didn't notice his home state is part of the losing side in the graphic https://t.co/6yzH61aAUa

— Aaron Rupar (@atrupar) March 18, 2019
Others noticed it too.
1. His own state is in the one getting punched.
2. Buncha the "defenseless blue states with no guns" include cities/neighborhoods Steve King wouldn't visit without armor and backup.
3. Cute cartoon – now do one by actual population and life expectancy – "Red Guy" has a glass jaw. pic.twitter.com/76zQHUAt0f

— Bob Chipman (@the_moviebob) March 18, 2019
Steve King is a moron pic.twitter.com/9Dq7yPWvCU

— Helen Kennedy (@HelenKennedy) March 17, 2019
The post, while disturbing especially given the timing, is just one of many far-right memes on King's Facebook page which includes references to "liberal logic" and pro-gun posts encouraging his supporters to stir the pot.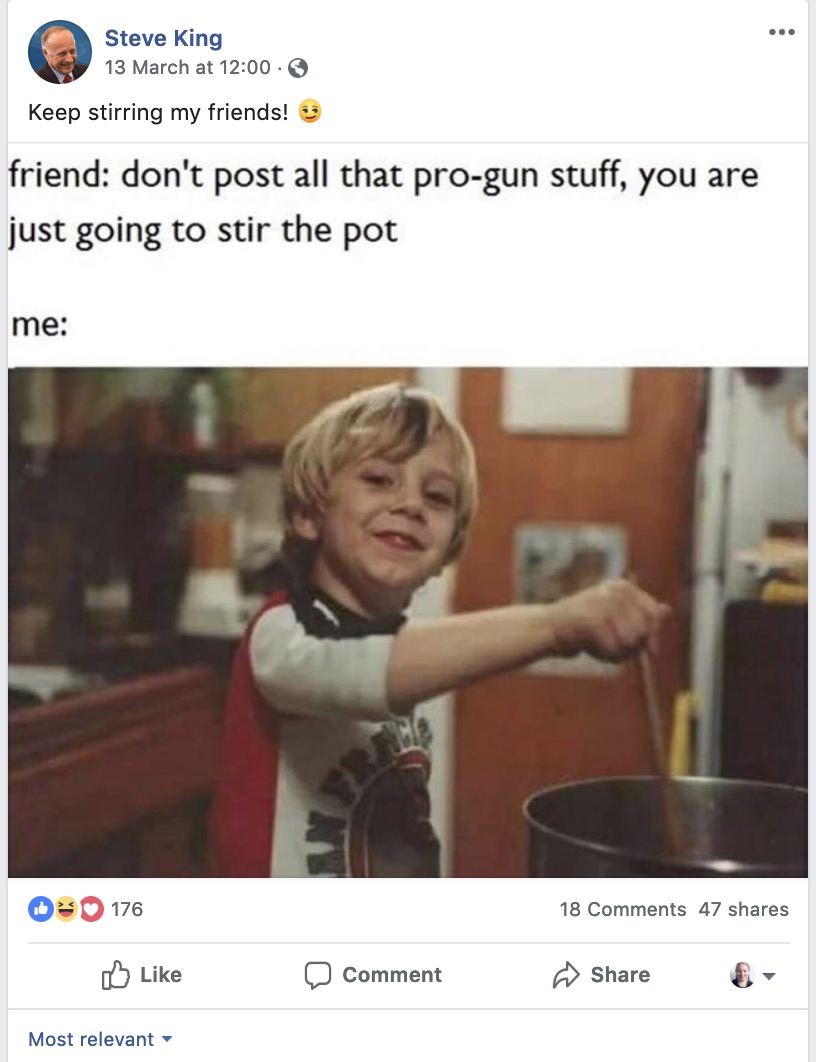 Back in January, King lost his Committee appointments House Republican Steering Committee when he made comments to the New York Times asking when the terms "white nationalist" and "white supremacist" became so offensive.
[images via Facebook, Twitter]
Have a tip we should know? [email protected]