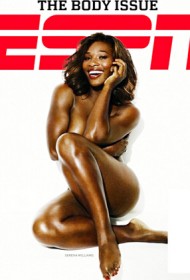 Magazines, it hardly needs to be said, have not been doing too well lately. Magazine Death Pool, a site that ghoulishly tracks the deaths of magazines and lays odds on the next to fall (they currently have it out for Entertainment Weekly), notes that 2009 has seen the ends of Gourmet, Cookie, Modern Bride, Elegant Bride, URB, Golf Inc., Southern Accents, Pink, Modern Jeweler, CSI, Vibe, Giant, Nickelodeon Magazine, Children's Digest, Trump Magazine… and that's only going back to May.
So what's a survival-minded magazine that doesn't want to go Web-only to do? According to the New York Times, one strategy has emerged as a favorite to combat ad page extinction: special issues. Preferably involving seminude athletes.
The Times' Stephanie Clifford reports that even though ESPN: The Magazine has seen a 24 percent decline in ad revenues month-over-month for the first six months of 2009, its Body Issue (which we've written about before) "is the biggest October issue, in terms of revenue, that ESPN has ever had." And they're not alone: People, Sports Illustrated, Us Weekly, and even the likes of Golf and Disney's FamilyFun magazine ("toy-of-the-year honorees") have honed in on special issues focusing on a preordained theme or gimmick as a reliable way to appeal to advertisers.
One thing Clifford doesn't focus on explicitly is a common thread that runs through a number of the magazines she mentions: they're weekly or bi-weekly. By definition, every issue of a monthly magazine that knows what it's doing should be distinct, if not wrapped around a single theme. But magazines that run more than once a month run aground of a problem that's only gotten worse since the rise of the Internet as a news source: they're usually too slow to tell you any news that you don't already know, but their arrival isn't rarefied enough to be anything special.
Even The New Yorker, which has been alarmingly light on ad pages lately, seems to be struggling with this, but if it went monthly, it would no longer enjoy its current privilege to help shape the news cycle each week. When we last wrote about ESPN's Body Issue, we called it a "'naked' play for sales," but noted that "desperate times call for desperate measures;" special issues are definitely a desperate measure, but it seems hard to dig weeklies out of the hole they're in otherwise.
Of course, all of these magazines could be overlooking a key strategy lately favored by a certain newsweekly: alarming headlines, seemingly written by a moonlighting New York Post editor, about killing granny and racist babies.
Have a tip we should know? tips@mediaite.com