Mitt Romney 'Softens' On President Obama's Immigration Policy…And On Marijuana?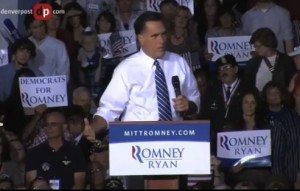 In an interview with the Denver Post, Republican presidential candidate Mitt Romney made statements that are now being touted as a form of agreement with President Obama's decision to defer the deportation of DREAM Act-eligible undocumented immigrants, and also appeared to soften his stance on medical marijuana. While this interview certainly illustrates Romney's willingness to say anything to get elected, even a casual reading of his remarks reveals that these statements are no more than lies by omission, designed to sweeten the bitter taste of his actual positions.
In June, President Obama announced a shift in immigration policy which would allow DREAM Act-eligible undocumented immigrants to avoid deportation. In his interview with The Denver Post, here's what Mitt Romney said:
"The people who have received the special visa that the president has put in place, which is a two-year visa, should expect that the visa would continue to be valid. I'm not going to take something that they've purchased," Romney said. "Before those visas have expired we will have the full immigration reform plan that I've proposed."

…He didn't furnish specifics on (his immigration) plan, but has said in previous interviews that students who served in the military may get a path to citizenship.

"I actually will propose a piece of legislation which will reform our immigration system to improve legal immigration so people don't have to hire lawyers to figure out how to get here legally," Romney said. "The president promised in his first year, his highest priority, that he would reform immigration and he didn't. And I will."
Some media outlets are characterizing this as a promise to "preserve" President Obama's policy while Romney passes a plan, but that's not actually what he said. All he has promised is that he won't yank visas issued under the Obama administration, not that he would continue issuing them to new applicants. This is still more than Romney has said in the past, but the Obama campaign released a statement to point out that this is only the faintest of shifts for Romney:
CHICAGO – Obama for America released the following statement from Director of Hispanic Press Gabriela Domenzain in reaction to Mitt Romney's latest comments regarding deferred action for DREAMers:

"Romney's latest immigration pivot raises more questions than it answers. He still has not said whether he would continue the Administration's policy that provides a temporary reprieve from deportation for young people who were brought here through no fault of their own. Would he side with his extreme anti-immigration advisors and repeal this measure? What would he do with those who qualify for deferred action but haven't received it? Would he deport those who have received a deferment when the program expires after two years? We know he called the DREAM Act a 'handout' and that he promised to veto it — nothing he has said since contradicts this and we should continue to take him at his word."
On medical marijuana, an issue that has also been a disadvantage for President Obama, Romney simply evaded the question by answering a different one:
Romney also was hazy about the future of Colorado's medical marijuana industry, which reaps more than $5 million a year in state sales taxes, saying his administration would enforce federal drug laws, that prohibit marijuana for any use.

"I oppose marijuana being used for recreational purposes and I believe the federal law should prohibit the recreational use of marijuana," he said.
Romney ran into trouble on the medical marijuana issue in May, when he scolded a reporter for asking about what is a very important local issue (that's why you do local interviews, Mitt), and he probably knows that being a total prick to those suffering horrible illnesses won't play well in the general election, so he stands by the policy position, and just ignores the fact that sick people exist.
Mitt Romney can throw up a moderate smokescreen with the best of them, but when that smoke clears, all you're left with is a bad buzz.
Have a tip we should know? [email protected]
---