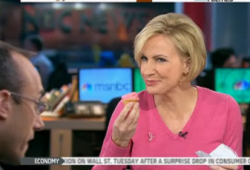 By now you've probably figured out that I'm a fan of the new book Start-Up Nation, which I toted around Israel filled with post-it notes for the past two weeks. It was co-written by my old friend Dan Senor, with whom I generally agree about the joys of summer camp and with whom I generally disagree about matters involving Dick Cheney. Morning Joe's Mika Brzezinski disagrees with him about Dick Cheney, too, and yesterday on Morning Joe when Senor was supposed to come on and talk about his new book instead he wound up being the sole defender of Dick Cheney with regards to Afghanistan. (It seems to me that Dan has the same policy regarding Cheney that he does regarding me: A steadfast and loyal friend, no matter how crazy they are.)
Anyway! Since Dan didn't get to talk about his book yesterday, he came back on the show today — but this time he upstaged himself on the book, because after he finally focused Mika back on his book and had a very nice segment about it, he went and produced the takeaway moment…about something else completely. Turns out the Cheney family were watching Morning Joe yesterday, just, you know, gathered 'round the TV like in Leave It To Beaver, and adjudged Mika to have been "a little cranky" based on what she said about Cheney Père. So, they sent her cupcakes! Twelve of them, to symbolize Cheney in 2012. At that point Mika seemed to lose her appetite.
In any case, despite the distractions, everyone pushing a book on TV should be so lucky to get such a techno-fused flashing-light intro like Senor did. And more to the point, the discussion about how much of Israel's success is attributable to how well they re-integrate their citizens throughout and after military service is illuminating. There is a lot the U.S. can learn from a model like that. Video below, followed by the Senor-Brzezinski skirmish from yesterday. Warning: Will make you hungry for cupcakes. And war.