'Exceptionally Stupid': Fans Horrified as World Series Player Gets Pulled Mid-Game for Positive Covid Test Only to Return MASKLESS for Celebration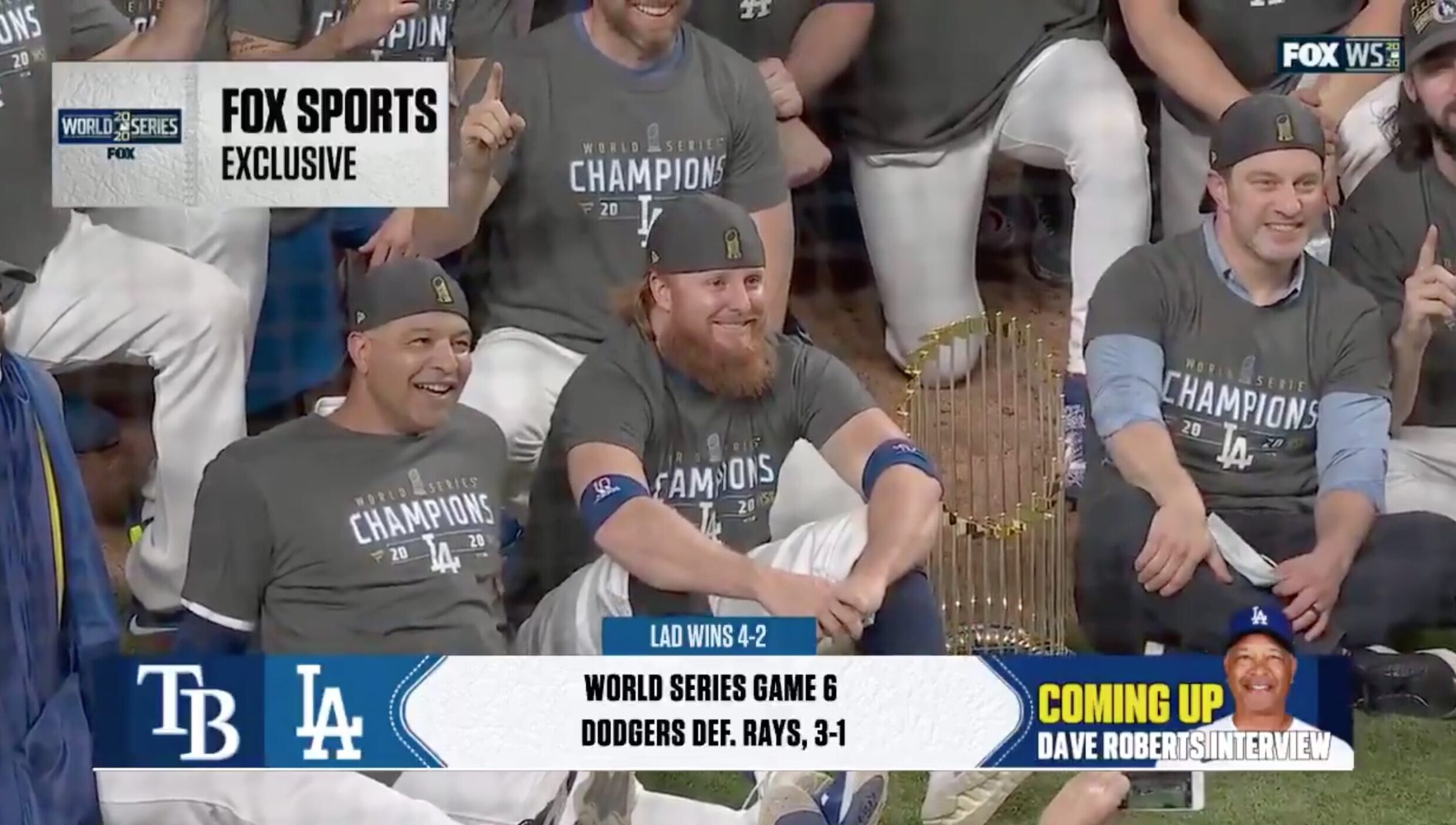 The World Series trophy presentation quickly turned from exhilarating to horrifying as a player who had just tested positive for Covid-19 returned to the field to celebrate with his teammates.
During Tuesday night's deciding Game 6, L.A. Dodgers star Justin Turner was pulled from the contest after the 7th inning due to a positive Covid test. The Dodgers went on to win the game 3-1, giving them a four games to two victory in the best-of-seven series.
But then, to the shock and horror of baseball fans, Turner inexplicably returned to the field for the postgame celebration. The Dodgers star wore a mask but frequently took it off as he hugged fellow players, kissed his wife, and gathered closely for a team photo.
Justin Turner returns to the field for the team picture. pic.twitter.com/NmXBbU7Mo7

— FOX Sports: MLB (@MLBONFOX) October 28, 2020
According to Dodgers president of baseball operations Andrew Friedman, nothing was going to keep Turner from celebrating a career milestone.
"[Turner] wanted to come out and take a picture with the trophy," Friedman said (via the Wall Street Journal). "I don't think there was anyone that was going to stop him from going out."
That answer simply wasn't good enough for the scores of baseball fans aghast at Turner completely flouting Major League Baseball's Covid protocol, as well as common decency:
Very cool and awesome that the virus stops being contagious when you win it all https://t.co/pSEuDyM3aZ

— Evan Davis (@EvanDavisSports) October 28, 2020
The Dodgers sent Covid positive Justin Turner out for a team photo after winning the series.

This is exceptionally stupid and puts people far beyond the Dodgers' orbit at risk. https://t.co/HgJcxP9RfB

— Alex Kantrowitz (@Kantrowitz) October 28, 2020
ah, I see the Dodgers have decided to go the "herd immunity" route https://t.co/2xmAlopWSz

— Samit Sarkar (@SamitSarkar) October 28, 2020
WHAT ARE WE DOING https://t.co/5VC4CGuIEw

— Rachel Bonnetta (@rachelbonnetta) October 28, 2020
No one thought this was a bad idea??! https://t.co/cgNuJoBhbf

— Tyler Remmel (@tylerremmel) October 28, 2020
Literally the commissioner is there. Manfred letting this happen when he's right there to stop it is bananas. The whole thing is bananas! How is this dude on the field after a positive COVID test while only sometimes wearing a mask? Did he get a rapid negative test? https://t.co/rE9Jx2L5x4

— Sam Vecenie (@Sam_Vecenie) October 28, 2020
BRO HE JUST TESTED POSITIVE FOR COVID LIKE 20 MINS AGO NO https://t.co/7Zpeq6b2bt

— Britni de la Cretaz (@britnidlc) October 28, 2020
This just blows my mind https://t.co/AvbZdzIdQS

— Matt Eurich (@MattEurich) October 28, 2020
This is insane https://t.co/RIbBaCIY4e

— Oruny (@OrunyChoi) October 28, 2020
This ain't it https://t.co/wnwKxxlAtr

— ??????? ???? (@exavierpope) October 28, 2020
you know another thing people deserve is to not die from a severe and wildly contagious respiratory disease they caught because someone that knew they'd tested positive wanted to celebrate with their pals https://t.co/u8ZO4uNlqI

— aaron (@AaronCampeau) October 28, 2020
THEY'RE ALL PUTTING THE TROPHY JUST HELD BY TURNER UP BY THEIR MOUTHS AND HOLDING IT AND TOUCHING THEIR MOUTHS AND TURNER TOOK HIS MASK OFF FOR A PHOTO!

What is going on right now?

— Sarah Spain (@SarahSpain) October 28, 2020
——
Have a tip we should know? tips@mediaite.com
Joe DePaolo - Senior Editor