Trump's 'TRUTH Social' and Planned Streaming Service Set Off a Whirlwind of Mockery
After teasing and hinting at it for months, Donald Trump has finally launched his own social network — called TRUTH Social.
Oh, also a streaming service called TMTG+. (And you thought Quibi was a weird name.)
The TRUTH Social equivalent of tweets will be called TRUTHs. Yes, really.
"I am excited to send out my first TRUTH on TRUTH Social very soon," Trump said in the statement. "I'm excited to soon begin sharing my thoughts on TRUTH Social and to fight back against Big Tech."
The streaming service, meanwhile, will consist of "'non-woke' entertainment programming, news, podcasts, and more."
TRUTH Social is already available for pre-order on Apple's App Store, and as Guardian tech reporter Johana Bhuiyan noted, the layout looks a lot like a certain other social network that Trump was banned from after stirring up an insurrection.
lol when you say you don't even miss your ex anymore pic.twitter.com/jnBxIVC9fA

— Johana Bhuiyan (@JMBooyah) October 21, 2021
The page on the App Store says, "This content may change without notice and the final product may be different."
So the final product may have a very different look, but right now the preview shows a platform that's basically the same as Twitter.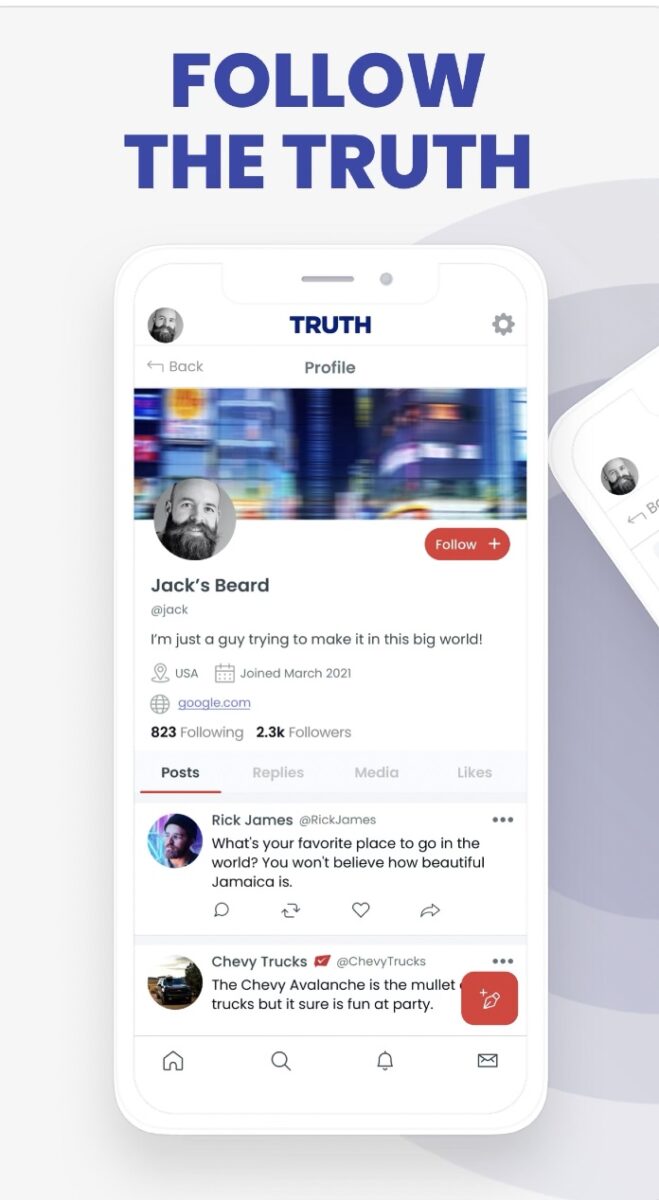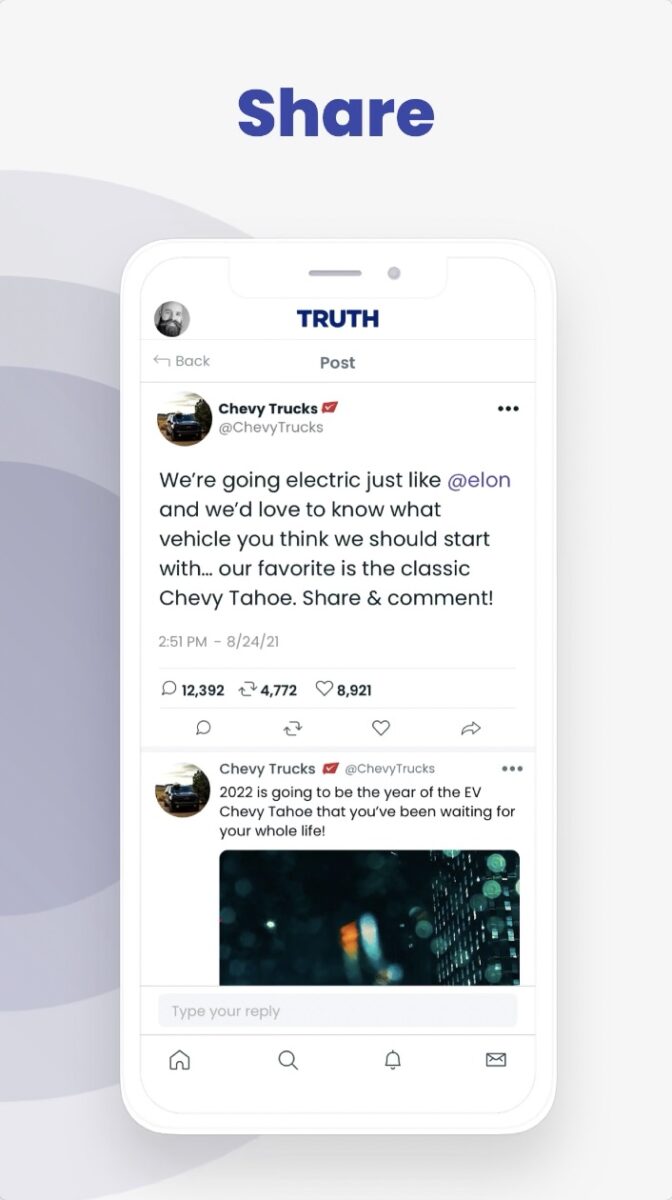 TRUTH Social is scheduled for release next February (assuming it actually happens), but Twitter is already off to the races.
i hope this doesn't stop at social media and that they follow through the whole way. not just with trump disney+ and netflix, but trump hamilton, trump squid games, etc. pic.twitter.com/RlNr38JAYV

— Ali Breland (@alibreland) October 21, 2021
So looks like "TRUTH Social" is out of the running as a name for the Facebook rebrand.

— Donie O'Sullivan (@donie) October 21, 2021
Anyway, Trump starting a social-media site called "TRUTH Social" in which the messages are referred to as "TRUTHs" is, at long last, an actual example of something Orwellian.

— Philip Bump (@pbump) October 21, 2021
The twenty-third rule for Trump's planned social media site is that you can't use it to make fun of his new social media site. pic.twitter.com/0YQK7aPFpw

— Brad Heath (@bradheath) October 21, 2021
So in the alt-right social media ecosystem there will now be Gab, GETTR, Parler, and TRUTH Social?

Sure, OK.

— Bradley P. Moss (@BradMossEsq) October 21, 2021
TRUTH. Social. Person. Woman. Man. Camera.

— Washington Post TikTok Ghoul ? (@davejorgenson) October 21, 2021
checking out the "trump media and technology group" pitch deck pic.twitter.com/1ZjC6jmZka

— William Turton (@WilliamTurton) October 21, 2021
Uh, did they not line up any PIPE financing? Because if the SPAC shareholders withdraw… https://t.co/C18baXuPwa

— Alex Weprin (@alexweprin) October 21, 2021
Trump created this platform in part because he claims other platforms censor conservatives. So I took a look at his new Terms of Service and "prohibited activities." As a user, you agree not to: disparage, tarnish, or otherwise harm, in our opinion, us and/or the Site https://t.co/MfiwAvG9pk

— Kayla Gogarty (@ohhkaygo) October 21, 2021
Ah, branding pic.twitter.com/zHSwViGjmS

— Parker Molloy (@ParkerMolloy) October 21, 2021
I just want one thing: Trump to do podcast ad reads. https://t.co/IuoFl8u2xa

— Al Weaver (@alweaver22) October 21, 2021
literally the only thing i could see in that press release pic.twitter.com/1wKsAFMo3q

— rat king (@MikeIsaac) October 21, 2021
I love how the "corporate competitive structure" claims that the creator of Trump vodka and Trump steaks and a string of defaulted loans and money laundering golf courses could in some way establish a company that competes with Twitter, Facebook, Disney, Netflix, *and* Amazon. https://t.co/bV6rLKcuuk

— Max Kennerly (@MaxKennerly) October 21, 2021
I get why a politics reporter would sign up for Trump's social media platform. That doesn't mean you have to screenshot every post and bring it over to Twitter though. Just putting this out there now.

— Jan Wolfe (@JanNWolfe) October 21, 2021
I look forward to whatever the TikTok kids do to this. https://t.co/B0Ovik8MYz

— Caissie (@Caissie) October 21, 2021
Have a tip we should know? tips@mediaite.com
Josh Feldman - Senior Editor