Who is Jerome Corsi, the Conspiracy Theorist Just Subpoenaed to Testify in the Mueller Probe?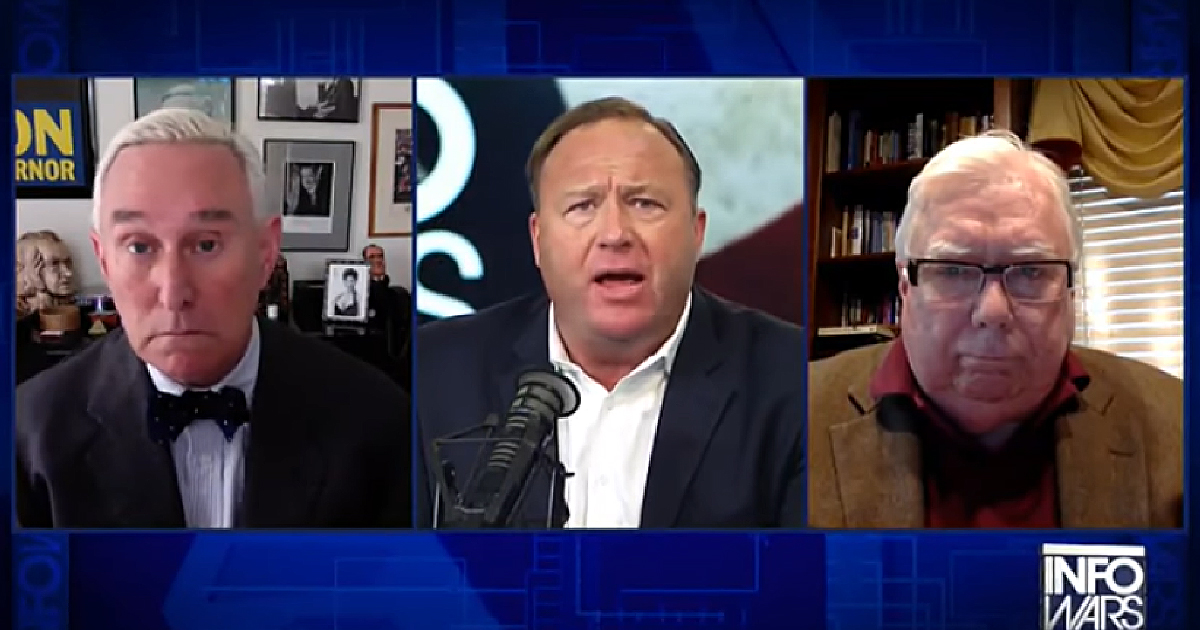 Left to right: Roger Stone Jr., Alex Jones, Jerome Corsi, screenshot from Infowars broadcast.
The news broke on Wednesday that Jerome Corsi, conspiracy theorist, has been subpoenaed by Special Counsel Robert Mueller to testify on Friday, in connection with his association with Roger Stone, conspiracy theorist and Trump associate, on the topic of Russian interference in the 2016 campaign. But who, people are asking, is Jerome Corsi?
Corsi's name came up a lot back in 2008. Practically birther-in-chief, Corsi was a driving force behind the conspiracy theory that then-candidate and Senator Barack Obama was not an American citizen but had instead been born in Kenya and, with the cooperation of the state of Hawaii, faked his birth certificate. But that wasn't Corsi's first, or only, foray into political conspiracy. And it isn't the only connection to Donald Trump, also a prominent force behind the so-called "birther" conspiracy.
Jerome Corsi is author of the book "Killing the Deep State: The Fight to Save President Trump", an Amazon Bestseller. He is associated with Infowars, of Alex Jones infamy. He is currently listed on their site as "Author, Correspondent", and last year represented himself as the site's Washington Bureau Chief when announcing he'd been granted press credentials to the Trump White House.
Jerome Corsi, Washington Bureau Chief, https://t.co/8yxnbeoqQC. We have WH PRESS CREDENTIALS. I'm in WH May 22, 2017 pic.twitter.com/ln9aE6nNOB

— Jerome R. Corsi, Ph.D. (@jerome_corsi) May 22, 2017
The New York Times states that Corsi is no longer with Infowars, although his profile is still listed among their contributors. His most recent article for Infowars was in April of this year on the topic of Loretta Lynch and James Comey. He is also a contributor to WorldNetDaily, and his book is for sale at Newsmax.
Earlier this year, Roger Stone interviewed Jerome Corsi for the Alex Jones Show at Infowars, wherein they discussed the Seth Rich conspiracy theory, a topic made even more sensational and mainstream by Fox News Channel host Sean Hannity (another Trump insider). The conspiracy theory was that the young DNC staffer leaked hacked emails to Wikileaks and was then murdered for it.
Corsi was a member of the "Council of National Policy', which two years ago ABC News described as a group that "wants to be the conservative version of the Council on Foreign Relations". The group, often described by the press as "secretive", has mainstream figures in its membership and hosts meetings with prominent members of government, including Supreme Court Justice Clarence Thomas. The Daily Beast in 2016 reported that both Kellyanne Conway and Steve Bannon were in the group with Corsi in the past.
"I don't know if they are still involved or not," Corsi said of Conway and Bannon in a phone interview with The Daily Beast. "I don't really know either one. I think I've spoken to Steve Bannon a couple times on the phone. I don't think I've ever even met Kellyanne."
The New York Times broke the story of Corsi's upcoming testimony, and in the article explain his connection to longtime Trump associate Roger Stone.
[Corsi's] lawyer, David Gray, said that he anticipates that investigators for the special counsel, Robert S. Mueller III, plan to ask Mr. Corsi about his discussions with Mr. Stone, who appeared to publicly predict in 2016 that WikiLeaks planned to publish material damaging to Hillary Clinton's presidential campaign.

"He fully intends to comply with the subpoena," Mr. Gray said, adding that the subpoena was not specific about the topic but that he and his client anticipated "it has to do with his communications with Roger Stone."

Mr. Mueller's team appears to be zeroing in on Mr. Stone as a possible nexus between the Trump campaign and WikiLeaks, which was used by Russian intelligence officers to spread information stolen from Democrats, according to an indictment by Mr. Mueller's team. Another former associate of Mr. Stone, the New York political gadfly Randy Credico, is also expected to testify before the grand jury on Friday.
The Times adds that Stone said he relied on research given to him by Corsi for a tweet he sent last year regarding John Podesta and Hillary Clinton, which came up before the House Intelligence Committee in 2017.
[Featured image via screengrab]
—
Follow Caleb Howe (@CalebHowe) on Twitter
Have a tip we should know? tips@mediaite.com