A Theory About Whoever Stole Several Baby Jesus Figures From New Jersey Nativity Scenes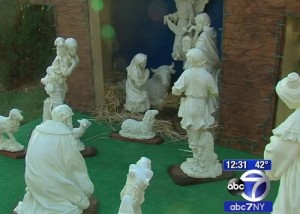 Up to five baby Jesus figurines are missing from nativity scenes in four neighboring New Jersey towns, and local police are scrambling to figure out who the parties responsible for these thefts are. I have a theory about who the culprit might be, thanks in part to the stalwart supporters of Republican presidential candidate Ted Cruz.
Bear with me for a moment.
According to WABC, police investigating the five stolen baby Jesus figures aren't even sure if the thefts are connected. Considering that the same particular item has been stolen from five separate churches in the towns of Kearny, North Arlington, Lyndhurst and Clifton, it's a sure bet that they are.
One resident told reporters that "people are crazy" and the thieves "don't have nothing (sic) to do." Another, parishioner Andrew Blascewicz, said something a bit stronger:
"This is a Catholic parish, you should think about what you're doing to other people as well and don't be so selfish… This is our first time ever with an outdoor nativity scene and the parishioners loved the idea and put their heart and soul into the project."
Since the investigation is ongoing and the authorities haven't publicized any breaks in the case, then it's safe to assume that no one really knows who is stealing all the baby Jesus dolls. However, I suspect that President Barack Obama himself, or one of his nefarious minions, is behind these anti-religious acts.
Why? Because according to this C-SPAN clip from a Cruz rally in Mechanicsville, Viginia (a place that actually exists), Obama ruined Christmas.
"He's scared the little children," said a particularly vocal woman. "They're not allowed to have Santa in school."
Ted Cruz supporters sound exactly like Trump supporters. These people can all have each other. pic.twitter.com/a35vHQcnGh

— Andrew Kirell (@AndrewKirell) December 28, 2015
The president isn't vacationing in Hawaii, expertly avoiding personal drones. He's stealing lil' baby Jesus figurines from good Christians in New Jersey. Case closed.
Check out the clips above, via WABC and C-SPAN.
[h/t WABC]
[Image via screengrab]
— —
>> Follow Andrew Husband (@AndrewHusband) on Twitter
Have a tip we should know? [email protected]