ABC Roundtable Spars Over Rand Paul, GOP's Libertarian Wing: 'Nihilism,' 'Ensuring That Congress Can't Act'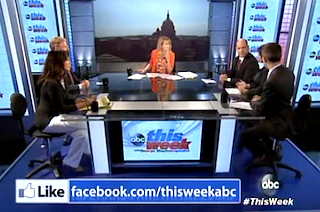 A roundtable on This Week With George Stephanopoulos dusted off the Thoreau and debated the viability of libertarianism as a political theory and its emerging role in the Republican Party, with George Will endorsing libertarianism's philosophical foundation and Neera Tanden pointing out that its application via the tea party was grinding the GOP to an unpopular halt.
The argument was started after Chris Christie called Rand Paul's brand of libertarianism "dangerous," which set off a week long exchange of insults between the two rising Republican stars.
Will argued that libertarianism was less anarchy than a belief that any government intrusion must be backed by in a compelling interest and a "constitutional warrant."
"If Mr. [Chris] Christie thinks that's a dangerous thought, a number of people are going to say Mr. Christie himself is dangerous," Will said.
RELATED: Ann Coulter Rails Against Chris Christie & Rand Paul For Their 'Little Bitch Fight'
"Libertarianism this week has demonstrated a lot of problems," Tanden responded. "When you see the strain in Congress—it's nihilism. The libertarian wing of the Republican Party is what's driving these debates which are ensuring that the Congress can't act, Boehner is being defeated again and again within his party. There are so many ruptures, national security issues, what the role of government is, food stamps, a whole slew of issues over the last several weeks, where we've seen Republicans unable to govern, because the basis of their party, the tea party, is really driving them to be able to say no to anything."
"If the indictment of libertarianism is that it prevented the passage of an execrable Farm Bill, the libertarians can live with that," Will replied.
"The position of the Republican Party now is we're going to double cuts to people who are hungry, because we want to give more money to Ag subsidies," Tanden said. "That I think is the real challenge that the libertarians are dealing with."
"The Republican leadership and establishment has to be very careful about attacking Republicans in this country, generally and in Republicans specifically," warned Matthew Dowd. "In the end, who benefits the most from this is Rand Paul, because he represents a rising movement in the country and the Republicans."
"The huge benefit to this right now among Republicans is social issues aren't part of the conversation," Down continued. "If Republicans can keep social issues off the debate going into 2016, and it's about finances and the role of government, Republicans will benefit."
—
>> Follow Evan McMurry (@evanmcmurry) on Twitter
Have a tip we should know? tips@mediaite.com