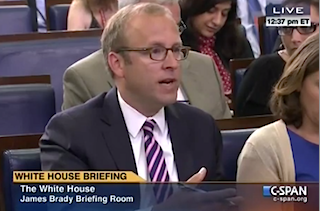 The official @BarackObama Twitter account has been a consistent source of confusion for both the public and the political media since it launched during President Barack Obama's first presidential campaign in 2007. As the bio on the account clearly states, "This account is run by Organizing for Action staff. Tweets from the President are signed -bo." But that doesn't stop people from assuming that any tweet emanating from the verified @BarackObama is coming directly from the president himself.
The latest tweet to cause a stir on the Obama account came last Thursday, embracing the #TBT or "Throwback Thursday" construction to comment on the Supreme Court's Hobby Lobby decision:
Throwback to last week when a woman—not her boss—made her own decisions about her health care. #TBT pic.twitter.com/xmQ5e7DFmW

— Barack Obama (@BarackObama) July 3, 2014
As many wondered after reading the tweet, does President Obama believe that following last week's decision, a woman can no longer make decisions about her own health care?
During today's White House Press Briefing, ABC News' Jonathan Karl addressed the issue with Press Secretary Josh Earnest, seeking further clarification on the president's connection — or lack thereof — to the Twitter account that bears his name.
"I understand those that aren't signed '-bo' are not directly written by him," Karl said. "Does he even read the others, does know they're going out, are they reviewed by senior people at the White House? Or is that just simply OFA doing something on his behalf?"
Earnest clarified that OFA is a separate political organization from the White House and that it maintains the Twitter account independently. As for the tweet in question, Earnest could not confirm that President Obama was even aware of the #TBT message, let alone personally approved it.
But, Earnest added, "it is consistent with a priority that the president and this administration have attempted to advance, which is that women should have the freedom to make their own decisions about their health care without interference from their boss."
Watch video below, via C-SPAN:
The @BarackObama tweet also made an appearance during a Meet The Press segment on the Hobby Lobby decision. Showing the message on screen, host David Gregory said it "gives you some insight as to how he views this politically in a midterm election year. He declined to note that the tweet did not actually come from President Obama but instead from the political organization that operates his account.
Watch video below, via NBC:
[Photo via screengrab]
— —
>> Follow Matt Wilstein (@TheMattWilstein) on Twitter
Have a tip we should know? [email protected]